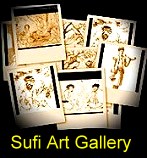 ● The Finest Collection of Sufi Paintings on the Web. (Opens in new window)
The Face of the Religion
Now I am called the Shepherd of the desert gazelles
Now I am a Christian monk
Now a Zoroastrian
The beloved is three, yet one.
Just as the three are in reality one.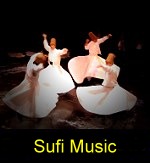 ● Click here to Download Turkish Sufi Whirling Music in Mp3 format.
The Higher Love
The ordinary lover adores a secondary phenomenon.
I love the real.
The Man who knows
The Sufi knows the real truth speaks in a way that is based upon the understanding, prejudices and limitation of his audience.

To the Sufi , the worship is actually the knowledge. Through the knowledge he finally achieves the insight.

The Sufi abandons the three I's. He never says words like 'for me', 'with me' or 'my property'. He must not attribute anything to himself.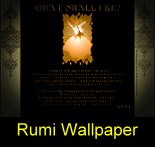 ● "What Shall I be?" Chose between the resolutions below to download Rumi's wallpaper for your desktop.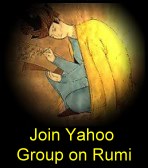 ● Click on the image above to join a Yahoo Group on Rumi to read love poems and share your thoughts.