A visit to Baba Bulleh Shah's Shrine, Kasur, Pakistan
Among all Punjabi Sufi Poets, Baba Bulleh Shah (بلہے شاہ, बुल्ले शाह) is the most celebrated for his exceptional flair for creating verses and boldness of expression. Bulleh Shah is truly the sufi poet for the masses, who was never shy of raising voice for humanity and equality of all beings. No other Sufi poet has influenced Punjabi Literature and Folk Music more than Bulleh Shah. Whether it is Abida Parveen singing sufiana kalaam or Rabbi Shergil doing a modern rendition of Bulleh ki Jaana, Bulleh Shah's kalaam is timeless and without boundaries.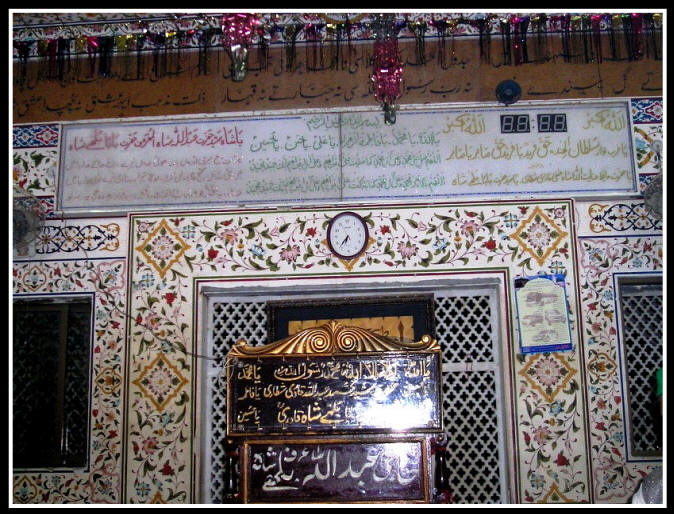 I

did a visit to the shrine of Baba Bulleh Shah in Kasur/Qasoor in December 2008. Kasur is not far from my hometown Lahore, however unfortunately I never had an opportunity to visit Qasoor before this visit. Unlike my pilgrimage to Mevlana Rumi's resting place, for which I planned well in advance, this was an unplanned last-minute tour. I did a day trip to watch Pak-India Border closing ceremony which is very interesting and amusing experience. Kasur is right on the border so on our way back we decided to offer fatiha at Baba Bulleh Shah's shrine in Kasur which comes in the way to Lahore.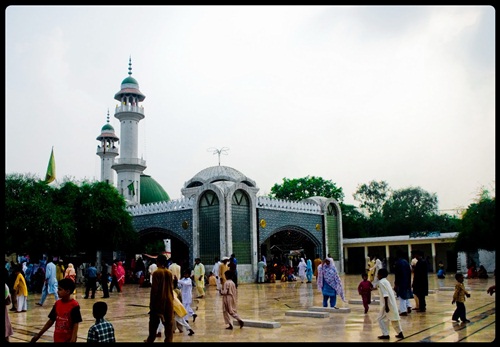 It was a cold night in this small city and the entire place was blacked out due to load shedding (regular power shutdowns due to shortage of electricity). Despite the night time and black-out, there were still many visitors to the shrine, which was lit reasonably using a small electricity generator and a few gas lanterns. The city area of Qasoor is a small and old town with narrow streets. Street vendors are present on both sides selling groceries and household items. There is a lot of two-wheel traffic similar to Lahore inner city.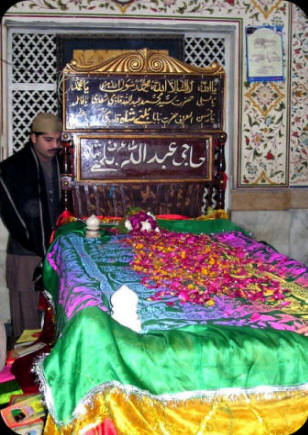 Once you enter the shrine, it is clean and very spacious with a huge veranda common in Islamic architecture. We have to remove our shoes at the entrance where there are a few street merchants selling some wooden toys. Many of them were selling a wooden mock-up of a 'madhaani', a rural kitchen appliance is used as a traditional blender to make lassi in villages of Punjab.


At the Bulleh Shah mazaar, you will hear lots of fakirs chanting the Kafi's of Baba Bulleh Shah. Unfortunately, due to dim light, video recording was not possible for the kaafi singing by the malangs. However this experience is certainly one of the main attractions of the place.

Similar to masoleum of Dr. Muhammad Allama Iqbal at Badhshai Mosque, Lahore , the ceiling of the shrine have verses of the poet in elegant calligraphy. I was amused to see Haji Abdullah urf Baba Bulleh Shah written on the epitaph of the saint (see photograph of epitaph above), while his own poetry on the ceiling mocking the Hajis in the verse:

Photo: A visitor at Baba Bulleh Shah Mazaar in Kasur


parh parh aalim faazil hoyon tay naam rakhaya Qazi
seh wari Hujj Makkay da keeta naam rakhaya Haji
phharh talwaar dilawar ban-yon tay naaam rakhaya Ghazi
je ve Bhulliya kuch na khhatti-ya jay peer na keeta razi
TRANSLATION
They read all the sacred texts and call themselves Qazis (Judge/Scholar)
They make a hundred pilgrimages to Mecca and add the suffix Haji to their name
They wield their swords bravely, and call themselves Ghazis (Warrior)
But Bulleh Shah says, you've done nothing, if you haven't pleased your Pir (Spiritual Master)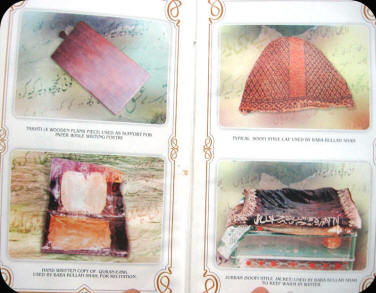 Though I was not able to verify the authenticity of this story, it narrated that when Baba Bulleh Shah died, the local mullahs denied him to be buried in the local graveyard of Qasoor, since he was accused of heresy in his poetry.
He had to be buried outside the boundaries of the city. However, hundreds of year later, now this shrine is the truly the hub of Qasoor city, where millions of people pay a visit every year. Although the rest of old city structure have been swallowed by time, Baba Bulleh Shah's Mazaar is the biggest visitor's attraction of Qasoor now. God knows best.

Personal belongings of Bulleh Shah,including Takhti and Jubbah

If you happen to visit there, Qasoori Andrassay (a type of sweetmeat) is recommended buy, which can be found in all Halwai (Traditional sweetmeat shops) in Qasoor. Qasoori methi is also a must-buy condiment for cooking, which is well renowned for its aroma in many dishes. You can also find several handicrafts such as Changair, a woven plate to keep chapati and colourful hand woven fans.
Map of Baba Bulleh (Bulley) Shah Mazaar, Kasur, Pakistan

SELECTED POEMS OF BABA BULLEH SHAH
I was able to obtain a few books on Baba Bulleh Shah poetry. Unfortunately, the translation by R. A. Nicholson, according to my opinion, sometimes distorts the meaning in an effort to rhyme the verses.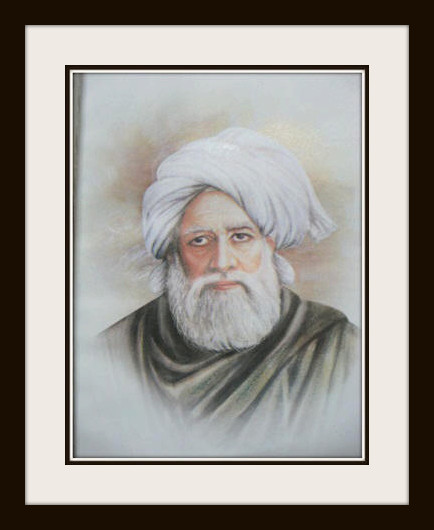 At the same time, I do acknowledge that the translation of Bulleh Shah's Punjabi is no ordinary feat. For instance, take the poem 'Sab Ikko Rung Kapaa Da Hai'. It literally means that all the cotton forms i.e. thread, cotton-balls have the same colour. However, the essence reflects more on the reflection of God in every form and being. The actual language of the verse in Punjabi when translated in English loses beauty of the message.
Unfortunately, Punjabi literature such as Baba Bulleh Shah, Heer Waris Shah and Sultan Bahoo is becoming endangered as fewer and fewer people read and understand the language anymore. I could not find any authentic English translation of Baba Bulleh Shah so I've included Prof. Nicholson translation as it is since it is still a commendable endeavour. If someone can suggest a better translation by any other academic, I will be very happy to publish it with compliments.


Selected Baba Bulleh Shah Poetry with English Translation by Prof Nichols
on18
| | | |
| --- | --- | --- |
| Tere Ishq Nachaya, Karkay Thaiyaa | Ilm o bus karein o'yaar | Aapay Paiyaan Kundiaayn |
| Apnaa Dus Tikhana | Uth chalay guwandhon yaar | Ek Aliph Parho |
| Amaan Babay di phulaaee | Bulleh, Keh Jaana Main Kaun? | Tohiyon Hein, Main Nahin |
| | Ranjha Ranjhaa Kardi | Ilm Bas Karein o Yaar - 1 |
| Ilm Bas Karein o Yaar - 2 | Ilm Bas Karein o Yaar - 3 | Sub Ikko Rang Kapaa Daa Hai- 1 |
| Sub Ikko Rang Kapaa Daa Hai- 2 | Ik Nuqday Which Gal Mukdi -1 | Ik Nuqday Which Gal Mukdi -2 |