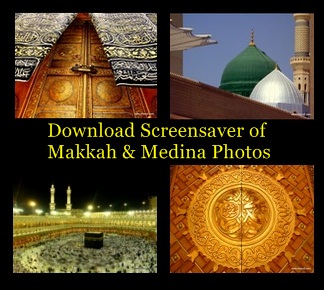 Makkah and Medina Photos Screensavers
 Download Desktop Screenavers (SCR format, 5MB) with photos including:
 ● Masjid-E-Haraam Makkah Muazma
● The Door Of Kaaba Makkah Muazama
● Masjid-E-Nabwi Medina Munawara
● The Green Dome Of Masjid-E-Nabwi
  Right click on Image + Save as to download SCR file.
 For MS Windows, all Versions. Just download the SCR file, Right-Click and choose Install.