Alam Lohar: Download Punjabi Sufi Songs MP3
Punjabi ﭙﻨﺠﺎﺑﻰ
Alam Lohar gained popularity in Punjab for his folk singing , especially for his Jugni, the most renowned of Punjabi Folk songs. Descending from a family of Blacksmiths, Alam Lohar was the first mainstream artist to gain wide acclaim for his use of Chimta as a musical instrument. He performed many Punjabi Sufiana Kalam such as Heer Ranjha, Saif ul Malook and Mirza Sahibaan. His legacy continues with his son Arif Lohar.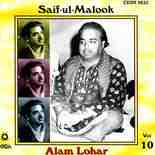 Jugni 10.8MB 6:31

Saif-ul-Malook 26.1MB 17:46

Awwal Nam Allah Da Layeey 4.4MB 7:02

 Ai Arab Diya Sultana  7.10

 Be Niaz Be Parwah

 Es Duniya De Mehfil

 Ranjah Majhian

 Layi Be Parwah Nal

 Ki Bharosa Dam Da

 Muhammad Diyan Ki Tarifan [Naat Sharif]

 Sohni Jinnan Dilan De Andar Punjabi  (3:40)
Chuk Sohnia Parda" is a beautifully Punjabi track that translates to "Remove the Veil, O Beautiful One," and the song is steeped in Sufi nuances and deep spiritual themes. In Sufi poetry and music, the veil often represents the separation between the individual and the ultimate truth or God. By asking the beloved to remove the veil, the song conveys the longing for a direct and unobstructed connection with the divine, akin to the intense desire of a lover to see the face of their beloved. Alam Lohar's rendition of this song is characterized by his emotive and soul-stirring voice.

 Chuk Sohnia Parda (5:04)

 Dunia Chalo Chali Da Mela (4:27)

 Laee Beqadran Naal Yaari (3:05)

 Mirza Jatt (5:09)

 Wah Rangia Tere Rang (4:20)

 Sassi Punhoon By Alam Lohar (9:10)
Alam Lohar – Live in London

 Heer Te Ranjhe Di Mulaqat (7:17)

 Mahiya (4:25)

 Mirza (7:10)

 Saif ul Muluk – Live Version (6:13)