Zia Mohyeddin recites Faiz Ahmad Faiz Poetry (Faiz Sahab Ki Mohabbat Mein)
Zia Mohyeddin has a distinct place in Urdu prose as there is no one who recites Urdu verse and prose like him. It is a talent which he is known across the world for Urdu poetry and prose lovers.
اردو urdu

Aaj Bazar Mein

Aaj Ek Harf Ko Phir Dhoondta Phirta Hai Khayal

Aek Manzar

Ashkabad Kee Sham

Bahar Aaee

Black Out

Dard Aaye Ga Dabe Paon

Dil-E-Man Musafir Man

Farsh-E-Nomeediye Deedar

Heart Attack

Hijir Ki Raat Aur Wisaal Ke Phool

Hum Jo Tareek Rahon Mein

Do Ishq (3:43)

Khatam Huee Barish-E-Sang

Koee Aashiq Kisi (1:58)

Manzar (1:38)

Mata-E-Loho Qalam (0:18)

Mere Milne Wale (1:25)

Mozo-E-Sukhan (2:47)

Mulaqaat (2:17)

Nisar Main Teri Galiyon Kay (2:42)

Poetry (Raat Yun Dil Mein) (0:35)

Qaid-E-Tanhaee (1:04)

Qattat (1:30)

Rang Hai Dil Ka Meri

Ae Roshniyon Ke Shehar

 Shaam

Sochne Do

Subah-E-Azadi

 Tanhaee

 Tum Yeh Kehte Ho Ab Koee

Yeh Matam-E-Waqat

Zindaan Ki Ek Sham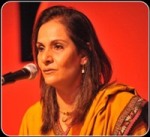 Also, download Tina Sani sings Faiz Ahmad Faiz kalam, download at Tina Sani Page.