Zia Mohyeddin recites Faiz Ahmad Faiz Poetry (Faiz Sahab Ki Mohabbat Mein)
Zia Mohyeddin has a distinct place in Urdu prose as there is no one who recites Urdu verse and prose like him. It is a talent which he is known across the world for Urdu poetry and prose lovers.
اردو urdu

Aaj Bazar Mein (0:54)

Aaj Ek Harf Ko Phir Dhoondta Phirta Hai Khayal (1:31)

Aek Manzar (0:53)

Ashkabad Kee Sham (2:22)

Bahar Aaee (1:18)

Black Out (1:48)

Dard Aaye Ga Dabe Paon (2:11)

Dil-E-Man Musafir Man (1:45)

Farsh-E-Nomeediye Deedar (2:12)

Heart Attack (1:05)

Hijir Ki Raat Aur Wisaal Ke Phool (0:55)

Hum Jo Tareek Rahon Mein (2:13)

Do Ishq (3:43)

Khatam Huee Barish-E-Sang (1:45)

Koee Aashiq Kisi (1:58)

Manzar (1:38)

Mata-E-Loho Qalam (0:18)

Mere Milne Wale (1:25)

Mozo-E-Sukhan (2:47)

Mulaqaat (2:17)

Nisar Main Teri Galiyon Kay (2:42)

Poetry (Raat Yun Dil Mein) (0:35)

Qaid-E-Tanhaee (1:04)

Qattat (1:30)

Rang Hai Dil Ka Meri (2:23)

Ae Roshniyon Ke Shehar (1:51)

Shaam (2:13)

Sochne Do (2:22)

Subah-E-Azadi (2:15)

Tanhaee (1:46)

Tum Yeh Kehte Ho Ab Koee (1:37)

Yeh Matam-E-Waqat (2:22)

Zindaan Ki Ek Sham (2:14)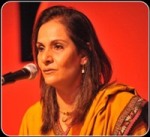 Also, download Tina Sani sings Faiz Ahmad Faiz kalam, download at Tina Sani Page.