Aslam Sabri Qawwali and Naat MP3
Urdu, Hindi and Farsi Kalam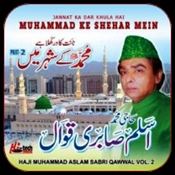 Aslam Sabri is a Qawwal from India, with great reverence for Hazrat Khwaja Moinuddin Chishti of Ajmer, India, which he has expressed in his Chishti Rang of Qawwalis. The shrine of Khwaja Moinuddin is revered by people irrespective of religions and creed and his Urs is a key event attracting pilgrims all over the globe.



 Ye To Khwaja Ka Karam Hai  (9:54) 4.7MB

 Mohammed Ke Shaher Mein (30:00)

 Roshani ke Paikar (10:12)

 Jan Se Piara Nabi (35:11)

 Itna Andhiyara (Aashiqana Qawwali)

If you like Aslam Sabri, also download the best collection of Qawwali, Sufiana & Arfana Kalam in MP3 format by Sabri Brothers Qawwalis.