Jashn e Amad e Rasool Allah hi Allah – Badar Miandad Qawwal
Kalaam/Poetry, Punjabi  ﭙﻨﺠﺎﺑﻰ
Badar Miandad Khan Qawwal hailed from renowned family of Qawwals from Pak Pattan, the city of Hazrat Baba Farid. He released several albums of Punjabi and Urdu Qawwalis and his tracks also featured in Indian movies.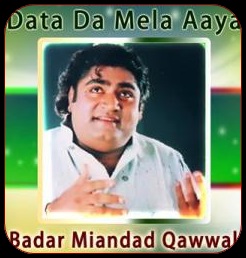 Download (Right click + save target as, or save link as)
Lyrics
Jashn-e-Amad e Rasool, Allah hi Allah!
Bolo Allah hi Allah
Bibi Amina ke phool, Allah hi Allah
Jabb Sarkaar Tashreef Laane Lagay
Hooron Gilman Bhi Khushiyaan Mananay Lagay
Har Taraf Noor Ki Roshni Chaa Gayee!
Mustafa [SAW] Kya Mile Zindagi Mil Gayee
Ae Haleema [RA] Teri Goad Mein Aagaye
Donno Aalam Ke Rasool, Allah Hi Allah
Chehra-e-Mustafa Jab Dikhaaya Gaya
Chupp Gayay Taare Aur Chaand Sharma Gaya
Amina [RA] Dekh Kar Muskuranay Lageen
Hawwaa Mariam Bhi Khushiyaan Mannany Lageen
Amina Bibi Sab Se Yeh Kehnay Lageen
Dua Ho Gayee Qabool, Allah Hi Allah
Shadiyaanay Khushi Ke Bajaaye Gaye
Shaadi Ke Naghmay Sab Ko Sunaayay Gaye
Harr Taraf Shor-e-Salle Alla Ho Gaya
Aaj Paida Habib-e-Khuda Ho Gaya
Phir Toh Jibreel Nay Bhi Yeh Ailaan Kiya
Yeh Khuda Ke Hai Rasool, Allah Hi Allah
Unka Saaya Zameen Par Na Paaya Gaya
Noor Se Noor Dekho Judaa Na Hua
Hum Ko Aabid Nabi SAW Par Bara Naaz Hai
Kya Bhala Mere Aaqa Ka Andaaz Hai
Jisnay Rukh Par Mali Woh Zia Paa Gaya
Arz-e-Taiba Teri Dhool, Allah Hi Allah
English Translation
Celebrations of the arrival of the Messenger of Allah!
Say Allah hi Allah
The flower of Hazrat Bibi Amina. Allah hi Allah!
When Prophet had his blessed arrival in this world
Angels started celebration with joy
There was blessed light everywhere
Finding Mustafa SAW was like getting a life
O' Haleema, you are blessed to be Prophet's nurse
Prophet SAW who is prophet for both world, Allah hi Allah
When Prophet's blessed face was revealed
His beauty overs shadowed the beauty of full moon
Hazrat Amina smiled when he saw Prophet
Hawwa Mariam was also celebrating with joy
Everyone said to Hazrat Amina
The prayer that you have been doing, is finally granted
The sounds of celebration started everywhere
And started songs of merriness
There were darood [Salle Alla] everywhere in the universe
Today is the date of birth of Allah's beloved
Hazrat Jibreel also announced
Muhammad is the prophet SAW of Allah
Prophet SAW shadow did not show on earth
His blessed noor was never seperated from divine noor
O' Abid [poet], we are proud of our Prophet SAW
His gestures and qualities are unmatched
Celebrations of the arrival of the Messenger of Allah!
Say Allah hi Allah