Alif Allah Chanbe Di Booti – Nusrat Fateh Ali Khan
Kalaam Sultan Bahoo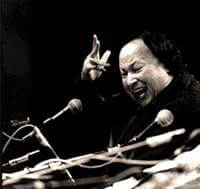 Alif Allah Chanbe Di Booti is a evergreen kalam by Hazrat Sultan Bahoo, which has been mesmerizing people of Punjab for centuries. It is a praise of Murshid for putting seeds of Sufism. Nusrat Fateh Ali Khan performed it like the true king of Sufiana Kalam.

 Download (Right click + save target as, or save link as)
Lyrics
Alif Allah Chambe Di Booti, Murshid Mann Wich Laai Hoo
Nafee Asbaat Da Pani Milia, Har Raggey Harjaae Hoo.
Andar Booti Mushk Machaya, Jaan Phullaan Te Aae Hoo
Jeevey Murshid Kaamil Bahoo, Jain Eh Booti Laee Hoo
My Spiritual Mentor implanted within my heart seeds of Allah's name
I am watered down with the teaching that only Your reality is real, rest is denial
The seeds he sowed have blossomed fragrance of truth, my being is filled with God's perfume
May the perfect Master live long wh cultivated these seeds in my being.