Wo Buton Ne Daale Hain Waswasay – Tina Sani sings Faiz
Urdu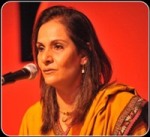 Wo Buton Ne Daale Hain Waswasay, Ke Dilon Se Khauf-e-Khuda Gaya is one of Faiz's most admired ghazals, which is also part of Urdu textbooks. Faiz Sahib was an exceptional poet of Nazm, yet Wo Buton Ne Daale Hain Ghazal shows his talent in Ghazal style of verse.

 Download (Right click + save target as, or save link as)
Lyrics
Woh Buton nay daale hain waswasay, ke dilon se khauf-e-khuda gaya
Woh parei hain roz qayamatain, ke khayal-e-roz jiza gaya.
Worldly Idols have raised fear in hearts, that fear of God no longer exists.
Every day is like Judgement days, that thought of real Judgement Day has gone.
Read Full Urdu Text of the Faiz Poem Wo Buton Ne Daale Hain at Ravi Magazine.com with our compliments.