La Phir Ik Baar Wohi Bada-o-Jam Aye Saqi – Shabnam Majeed – Kalaam-e-Iqbal
Kalaam/Poetry  اردو urdu  Dr. Allama Muhammad Iqbal
La Phir Ik Baar Wohi Bada-o-Jam Aye Saqi is a ode by Allama, desiring the glory of islam to be revived again. Sung beautifully by Shabnam Majeed.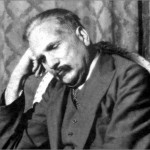 Download (Right click + save target as, or save link as)
Lyrics
La Phir Ek Baar Wohi Bada-o-Jaam Ae Saaqi
Haath Aa Jaye Mujhay Mera Maqaam Ae Saaqi
Teen So Saal Se Hain Hind Ke Maikhanay Band
Ab Munaasib Hai Tera Faiz Ho Aam Ae Saaqi
Meri Meenayay Ghazal Mein Thi Zara See Baqi
Sheikh Kehta Hai Ke Hai Ye Bhi Haraam Ae Saaqi
Sher Mardon Se Huwa Baisha-e-Tehqeeq Tehi
Reh Gye Sufi-o-Mullah Ke Ghulaam Ae Saaqi
Ishq Ki Taigh-e-Jigardar Ura Li Kis Ne
Ilm Ke Hath Mein Khali Hai Niyaam Ae Saaqi
Sina Roshan Ho Tou Hai Souz-e-Sukhen Ayn-a-Hayat
Ho Na Roshan, To Sukhan Marg-e-Dawaam Ae Saaqi
Tu Meri Raat Ko Mehtab Se Mehroom Na Rakh
Tere Paimanay Mein Hai Mah-e-Tamaam Ae Saaqi
English translation
Bring me that cup of wine again, my friend,
Let me finally have my rightful place, my friend!
For three centuries, India's wine shops have been closed
And now we yearn for your generosity, my friend.
My flask of poetry held the last drops
But our strict Mullah deems it unlawful, my friend.
There are no brave souls in the forest of truth anymore
People bow down to priests and holy shrines, my friend.
Who has taken Love's mighty sword?
Wisdom's hands are entwined around an empty sheath, my friend.
Verses illuminate life, like a burning heart
But they fade away when those rays diminish, my friend.
Please don't take away the moon from my night
I see a shining moon in your cup, my friend.