5 Famous Fans of Nusrat Fateh Ali Khan you may not know
5 Famous Fans of Nusrat Fateh Ali Khan you may not know
Imran Khan – The Fan Turned Friend
Imran Khan, the former cricketer and current Prime Minister of Pakistan, has always expressed immense admiration for Nusrat Fateh Ali Khan. Imran Khan's appreciation for Nusrat's music was instrumental in introducing his work to a broader international audience. Imran Khan played a significant role in organizing concerts and events featuring the legendary Qawwali artist, helping him gain global recognition. Their deep friendship and shared passion for music have made Imran Khan an unwavering fan of Nusrat's unparalleled talent.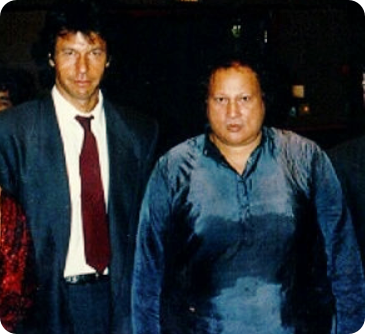 Peter Gabriel – The Collaborator and Advocate
Peter Gabriel, the acclaimed British musician and founder of the renowned world music festival, WOMAD, is another notable admirer of Nusrat Fateh Ali Khan. Gabriel recognized the sheer brilliance of Nusrat's music and his ability to bridge cultural divides through his performances. The two artists collaborated on the iconic album "Mustt Mustt" in 1990, which introduced Nusrat's Qawwali to a wider Western audience. Peter Gabriel's efforts to promote Nusrat's music and bring it to the global stage solidify his place among the maestro's top fans. Peter Gabriel and Nusrat Fateh Ali Khan remained friends for life, see their rare photo below.
Listen to Sweet Pain [Ni Saiyyo Assan Naina De Akhay Laggay ]: Peter Gabriel and Nusrat Fateh Ali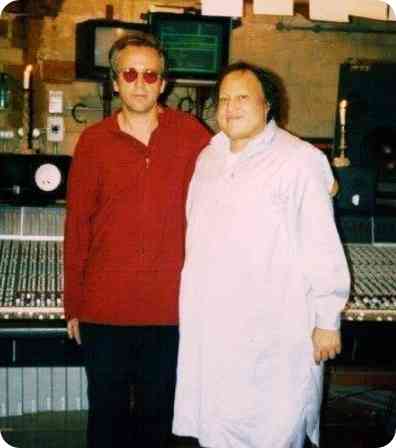 Javaid Akhtar – The Scribe of Nusrat's Soul
Javaid Akhtar, a renowned poet and lyricist, is hailed as one of Nusrat Fateh Ali Khan's most ardent admirers. Akhtar's evocative lyrics perfectly complemented Nusrat's powerful and emotive renditions. Their collaboration resulted in timeless compositions that touched the hearts of millions. Songs like "Dum Mast Qalandar" and "Afreen Afreen" are testament to their creative synergy. Javaid Akhtar's profound understanding of Nusrat's artistry made him an indispensable part of the maestro's musical journey.
A.R. Rahman – The Torchbearer of Nusrat's Legacy
A.R. Rahman, the celebrated Indian composer and musician, holds Nusrat Fateh Ali Khan in the highest regard. Rahman often credits Nusrat as one of his most significant musical influences. He has paid tribute to Nusrat's genius through his compositions, seamlessly blending elements of Qawwali with his own unique style. Rahman's admiration for Nusrat's mesmerizing voice and ability to evoke raw emotions shines through his work, making him an ardent fan and torchbearer of the maestro's legacy.
Eddie Vedder – The Grunge Rocker with a Soulful Connection
Eddie Vedder, the lead vocalist of the iconic rock band Pearl Jam, is an unexpected but passionate fan of Nusrat Fateh Ali Khan. Vedder's deep appreciation for Nusrat's soulful performances led him to explore Sufi music further. Inspired by Nusrat's vocals, Vedder infused elements of Qawwali into Pearl Jam's music, creating a unique fusion of rock and spiritual melodies. His profound admiration for Nusrat's music demonstrates the universal appeal and cross-genre influence of Nusrat Fateh Ali Khan's songs.