A Rare Interview with King Qawwal Nusrat Fateh Ali Khan
A Rare Interview with King Qawwal Nusrat Fateh Ali Khan
We welcome Nusrat Fateh Ali Khan and members of his Qawwali party. Without further adieu, let's ask him few question around Qawwali genre and his concert tonight.
Q1: The word Qawwali refers to a specific kind of music, it is a kind of prayer right? Is is religious music?
A: Qawwali means singing in poetry, the Sufi is saying the Sufism message via singing. So you can call Qawwali is 'Sufi poetry conveyed via devotional music'.
Q2:  But there are also love songs in your performance and some time for entertainment?
A: The most striking thing about this religious Sufi music is that it's very rhythmic and it sounds like music for dancing. To the West, it sounds like party music, yes, but it's not a party music! There's dancing in the Sufi music, but it's not for dancing for the girlfriend for a boyfriend. It's a dance for God by the Sufi saints.
Q3. Let me ask you, just quickly about your name is Nusrat, a given name or is that a title that you've been given?
Yes, this name Nusrat is not on my birth certificates. My real name is Pervaiz, which means Emperor. Nusrat has been a nickname given to me that stuck with fans and music industry.
Q4. Tell us about your performances across the world?
We have done many concerts in France, UK and all over Europe. And now all over the United States as well.
Q5: It seems that the first song Allah Hoo. Tell us about this track.
Allah Hoo is an opening performance for God. The track is praise for God who is omnipresent. And it states that before the universe before the moon the skies, the stars, God was there. And that's how they begin. It is kind of a musical celebration of God creating the Universe.
Q6. You are obviously the leader of the band, but there are other lead vocalists in your troupe also?
A. I am the leader in singing and and second is my younger brother, Mr. Farrukh. He also play Harmonium with me and expert in arrangement of melody over harmonium. And the third vocalist is my nephew, whose name is Rahat Ali Khan. And the fourth are a troupe of our students. Another important person is the tabla player. Everything depends on each other, because every artist needs a team effort.
Q7. You brought Qawwali music to Western audiences for a number of years now. Most Westerners don't really understand completely the religious aspect of music.
I think Music needs no language. There is no need for words because music is a universal language. Everybody know my style, my message and my message of peace. Message of Love, and between human being, for equality.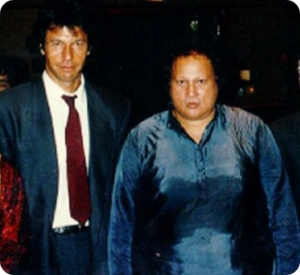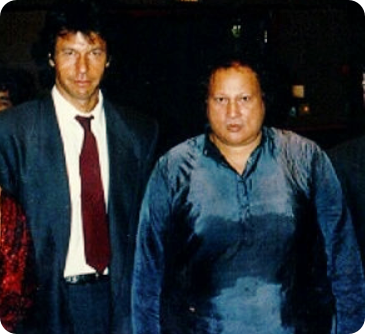 Q8. And I noticed that the last couple of times you've been here in New York, your performances were dedicated to different organisations different causes. And when you were here a year or two ago, there was a great cricketer with you, Imran Khan, right?
Imran Khan is is a very dear person and his charity is cancer research. We have a special place in our heart for this charity [Shaukat Khanum Cancer Hospital]. The spirit of Sufism is goes well with such cause, hence we aim to promote it at our concerts.
Q9. When you sing these songs are you singing your own, do you write these yourself or are you using traditional melodies?
We do both. The selection of traditional some tunes e.g. Raags and Bandishes are based on what I learned from my father. My grandfather has just been very traditional. I play many of same traditional Raags but I have also experimented and blended with Western percussions.
Thanks you Nusrat Fateh Ali Khan Sahib for the quick interview and best wishes for the concert ahead!