Haji Mehmood Ghaznavi Sabri of Sabri Brothers passed away
Haji Mehmood Ghaznavi Sabri, the last of Sabri Brothers, passed away
Younger Brother of Maqbool Sabri and Ghulam Farid Sabri, Haji Mehmood Ghaznavi Sabri passed in June 2021. He was the last of the four Sabri Brothers.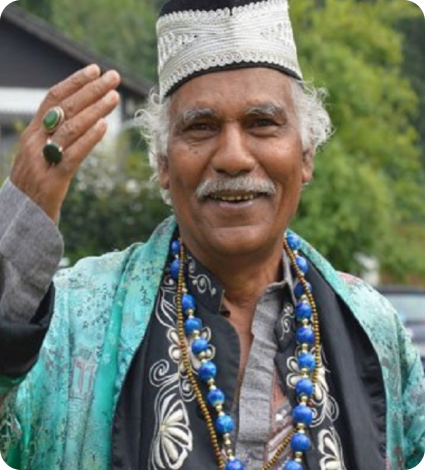 Maqbool Sabri and Ghulam Farid Sabri were both born in India and migrated to Karachi following 1947 partition. Their elder brother Haji Ghulam Farid passed away before their migration. Haji Mehmood Ghaznavi Sabri was the only of the five brothers to be born in Karachi in 1949, who were:
Hidayat Hussain [died before partition]
Kamaal Sabri
Haji Ghulam Farid Sabri
Maqbool Ahmed Sabri
Mehmood Ghaznavi Sabri
Mehmood Ghaznavi Sabri during an interview shed light on their lives. His elder brothers were born in Kalyana village in eastern Punjab is a family of musicians who claims direct descent from legendary Tansen, the court musician famed at the times of Mughal Emperor Akbar the Great, the Mughal emperor. His family belongs to the Sabriyya Sufi order, which led them using Sabri as surnames.
Sabri Brothers were blessed by Sufi Saint Khwaja Ghaus Muhammad Gwaliori based in Gwalio [Madhya Pradesh State in India], who suggested them to use kalam and voice for promoting Sufism, rather than instruments. Following the partition, they began life as poor migrants at the refugee camps in Karachi and with their hard work in Qawwali genre, made is popular across the world. Along with Nusrat Fateh Ali Khan, Abida Parveen and Rahat Fateh Ali Khan.
Mehmood Ghaznavi Sabri moved to Germany and although less known that other Sabri Brothers, he also performed Hamd, Naat and Qawwali Kalam at many events across the world. There is a a beautiful rendition by Haji Mehmood Ghaznavi Sabri of Balaghal Ula Be Kamalehi [Suhani Raat Th]. He has performed in Jakarta, Bali, Cape Town, Iran and so many international locations. His fans include Imam Khomeini's son as well as Indonesia president Sukarno's daughter.
Also Download more than 65 Sabri Brothers Qawwali MP3 Songs. As always 1-click downloads. No registration.