Honorary Grave of Dr. Allama Iqbal at Mevlana Rumi's Tomb [Konya, Turkey]
Allama Iqbal's great admiration and reverence for Rumi, the greatest and most influential of all Sufi masters, is evident from his numerous poems. He has often depicted Rumi as the torch-bearer of Ishq (Love), and Razi as the flag-bearer for Ilm (learning). In this race between the heart and the mind, Iqbal continuously shows the dominance of Rumi's Ishq [Love] over Razi's Ilm [Knowledge].
His son Javid Iqbal's in his biography 'Apna Gareban Chaak' mentions some metaphysical incidents which elaborate the spiritual nature of Iqbal's relationship with Rumi, which was no different from Rumi's relationship with his mentor Shams Tabraiz.
Iqbal's loyal housekeeper Ali Baksh remained close to Iqbal all his life and has mentioned of his state of spiritual ecstasy/Wajd during prayer times of Tahajud (late night prayers), followed by incessant flow of thoughts and revelations that he transferred to ink. One incident Ali Baksh narrates is of Rumi's spirit visiting him and disappearing without trace even there was lock at the door.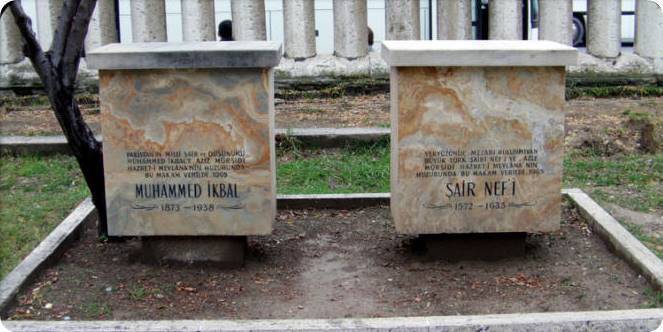 Here is a fascinating video of some very discreet spiritual dimension of Allama as narrated by Dr. Javed Iqbal, who holds a special position of his own among literary nobles of Pakistan. [courtesy of Dunya TV].