Junoon Concert – SSE Wembley Arena London Sunday 25 Aug 2019
Junoon Concert – SSE Wembley Arena London Sunday 25 Aug 2019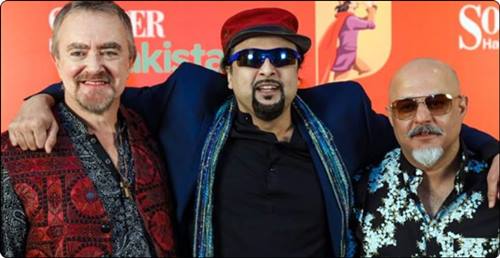 After more than a decade, Junoon, the greatest Rock bank that Pakistan ever produced, has finally made their long-awaited reunion a reality. After their remarkable concerts recently in Dubai, Karachi and Lahore , they will be performing in London now on at SSE Wembley Arena on Sunday 25 Aug 2019
For those who don't Junoon, there are a very few bands which can be credited with creating a genre of their own. Junoon The greatest band from Pakistan is definitely among those exceptional band who gave us genre of Sufi Rock.
Junoon's founding member Salman Ahmed began playing guitars with Vital Signs but parted way to form a band Junoon with them-budding vocalist Ali Azmat to experiment more heavier rock sounds. Even from beginning Junoon showed strong eastern mystical influences with their instrumental Heer. Also they borrowed Fifi Haroon to record Jogia, a beautiful song with glimpse of Punjabi Folk and Sufism.
Junoon has been versatile in their Rock genre, whether is it Saqi Nama (Kalam Allama Iqbal) or Hazrat Lal Shahbaz Qalander's Lal Meri Pat (Damadum Mast Qalandar) , they retained their signature style on every song.
Sayonee and Saeen [or Saeein] remain testimonials that there is no match for them when it comes to genre of Sufi Rock music.
Junoon London Concert Tickets are already going quickly so book early to avoid missing the grandest reunion of any Pakistani band ever.