Meaning of Ghazal songs: Best of Mirza Ghalib
Meaning of Ghazal songs: Best of Mirza Ghalib
The word ghazal in Urdu, as far etymology is concerned, is derived from gazelle [doe-deer]. Gazelle symbolized many features, which the ghazal poetry manifests, a few below:
Ghazal poetry is often about admiring the beauty of beloved. Among animal kingdom, gazelle is also synonymous to beauty. Often the beauty of beloved's eyes is compared with that of eyes of a female deer [hirni jaisi ankhein]. 
Gazelle is a free spirited animal and ghazal verses are also reflection of the freedom of expression and love. Ghazal belongs to the era of conservatism and it gave poets and people to express their love, affection and sentiments by using the best of linguistics, art and culture.
According to Urdu historic, gazelle when hunted by a predator expresses her loss with woe and tears. Such expression of grief aligns with ghazals, which are expression of grief due to lost love, solitude and depression.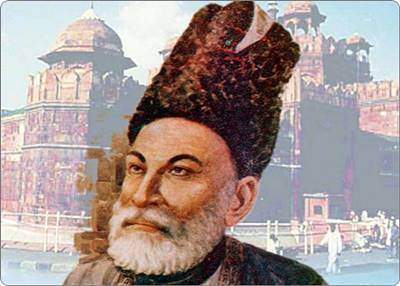 TheSufi.com has compiled the best Ghazal of Mirza Ghalib, probably the most loved classical poet of Urdu along with Mir Taqi Mir.
Ghalib's master over Urdu verse was truly extraordinary, with his choice of words immaculate and lucid than his peers. He lived in the time of legendary poets such as Momin Khan Momin, yet with ghazals like Aah Ko Chahiye Ik Umr Asar and Hazaaron Khwahisien Aisi made him a household name at the Mughal era and raised his profile at the Mughal court also.
It is fair to say that Jagjit Singh is the 'voice' of Mirza Ghalib, as he rendition of Mirza Ghalib's ghazal as part of Gulzar's masterpiece Mirza Ghalib drama revived the popularity of his poetry. Mirza Ghalib's verses had almost become extinct for common man, but with Mirza Ghalib drama and excellent music compositions by Jagjit Singh, such kalam became a part of mainstream.
Best Ghazals of Mirza Ghalib: Download Song MP3
♬ Dil-e-Nadan Tujhe Hua Kya Hai – Ghalib – Suraiya and Talat Mohamed: Download MP3
♬ Koi Umeed Bar Nahin Aati – Mirza Ghalib – Lata: Download MP3
♬ Bas Ki Dushwar Hai Har Kaam Ka Aasaan Hona – Mirza Ghalib: Download MP3
♬ Aah Ko Chahiye Ik Umr Asar Honne Tak – Mirza Ghalib – Jagjit Singh: Download MP3
♬ Tina Sani sings Ye Na Thi Hamari Qismat by Mirza Ghalib
♬ Hazaaron Khwahisien Aisi – Jagjit Singh Sings Mirza Ghalib: Download MP3
♬ Bazeecha e Atfaal Hai Duniya Meray Agay – Jagjit Singh Sings Mirza Ghalib: Download MP3
♬ Dil Hi To Hai Na Koi Sing o Khisht – Jagjit Singh Sings Mirza Ghalib: Download MP3
♬ Yeh Na Thi Hamari Qismat – Jagjit Singh Sings Mirza Ghalib: Download MP3
♬ Woh Firaaq Aur Woh Visaal Kahaan – Jagjit Singh Sings Mirza Ghalib: Download MP3