Tu Kujja Mann Kujja: Nusrat Fateh Ali Khan's masterpiece Qawwali
Tu Kujja Mann Kajja is regarded as Muzaffar Warsi's most beautiful Naat Sharif, which has also been sung by legends such as Nusrat Fateh Ali Khan as well as recently by Rafaqat Ali Khan at Coke Studio. It has many heart touching verses in glory of Prophet SAW, some as below:
Tafseer Teray Khulq Ki
Quran Hi Quran Hai
Tu Haasil-e-Duniya o Deen
Ya Rehmet lil Alameen
Tu Kujja Mann Kujja
The representation lof your exceptional manners
Is glorious Quran itself
Your are the achievement for both world and faithly matters
O mercy of both worlds.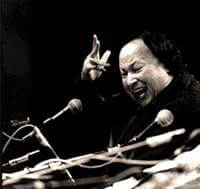 Doorian Samne Se Jo Hutney Lagain
Jaalion Se Nigahain Lipatnay Lagain
Ansoo'on Ki Zubaan, Ho Meri Tarjumaan
Dil Se Nikle Sada, Tu Kujja Mann Kujja

When the distances between you [Muhammad SAW] and my eyes end
My glances embraces the golden mesh of your tomb
Only languages of tears can describe my emotions now
Where my humble being, and where Yours exalted station.
Download this beautiful Original Qawwali Tu Kujja Mann Kujja by Nusrat Fateh Ali Khan [which also inspired a coke studio version recently].