Welcoming Rabi-ul-Awwal – The Celebration of the Birthday of the Prophet
Mawlid by Hazrat Suleyman Chelebi – The Celebration of the Birthday of the Prophet Muhammad SAW
Suleyman Chelebi [or Celebi] was a famous poet from Antonia and a Sufi of Khalwatiyah dervish order. Most of his works didn't survive but his ode celebrating the birth of Prophet Muhammad SAW is highly regarded by Sufis and recited at Milad [or Mawlud] gatherings.
Mevlûd-i Nebi, or Mevlûd-i Peygamberi (Hymn on the Prophet's Birth) narrates the story of Prophet's birth and life, his miracles, Miraaj Sharif [ascent to heavens]. It is written in Ottoman Turkish style and even today no Mevlud [Milad in Urdu] is complete without its recitation.
The narrative by Suleyman Chelebi is unique and inspiring as it takes into account 4 noble women, Sayyida Asiya (who raised Moses), Hazrat Maryam (mother of Jesus) and Hazrat Amina (Mother of Prophet Muhammad SAW)
Some have said that of these charming three
One was Asiya [mother of Moses] with moon like face,
One was Virgin Mary without doubt,
And the third a houri beautiful [Hazrat Amina]

Then these moon-faced three drew gently near
And they greeted me with kindness here;
Then they sat around me, and they gave
The good tidings of Muhammad's birth;
Said to me: "A son like this your son
Has not come since God has made this world,
And the Mighty One [Allah] did never grant
Such a lovely son as will be yours.

You have found great happiness,
O' dear, For from you that virtuous one is born!
He that comes is Emperor of Higher Knowledge,
Is the mine of gnosis and tawhid [monotheism].
For the love of him the sky revolves,
Men and jinn are longing for his face.

This night is the night that he, so pure
Will suffuse the worlds with radiant light!
This night, earth becomes a Heaven,
This night God shows mercy to the world.
This night those with heart are filled with joy,
This night gives the lovers a new life.

Mercy for the worlds is Mustafa SAW,
Sinners' intercessors: Mustafa!  SAW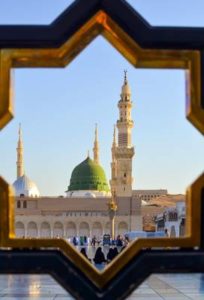 Mawlid remains an evergreen praise and the next section of this poem is about welcoming to the new born Muhammad SAW.
Welcome, O' high Prince, we welcome you!
Welcome, O' mine of wisdom, we welcome you!
Welcome, O' secret of the Book, we welcome you!
Welcome, O' medicine for pain, we welcome you!

Welcome, O' sunlight and moonlight of God!
Welcome, O' you not separated from God!
Welcome, O' nightingale of the Garden of Beauty!
Welcome, O' friend of the Lord of Power!

Welcome, O' refuge of your community!
Welcome, O' helper of the poor and destitute!
Welcome, O' eternal soul, we welcome you!
Welcome, O' cupbearer of the lovers, we welcome you!

Welcome, O' darling of the Beloved!
Welcome, O' much beloved of the Lord!
Welcome, O' Mercy for the worlds!
Welcome, O' intercessor for the sinner!
Only for you were Time and Space created…