Ye Hukm Tha Ke Gulshan-e-'KUN' Ki Bahar Dekh: Allama Iqbal
Ye Hukm Tha Ke Gulshan-e-Kun Ki Bahar Dekh: Allama Iqbal's verses from Bang-e-Dara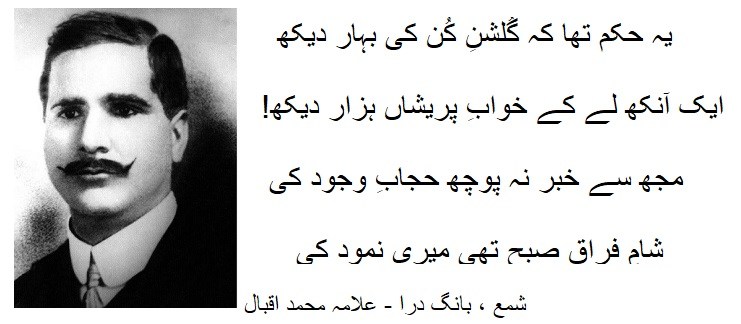 Bang Dara was the first book of poetry compilation of Allama Iqbal, which was pubsliehd in 1924. It has several of Allama important poems including Shikwa and Jawab Shikwa. It shows the glimpses of his philosophy of Khudi, although it was Baal-e-Jibreel where the concept is truly revealed.
Below verses are the poem Shamaa [Lamp] from Bang-e-Dara reflect on the story of Adam's forces exile from Paradise. It narrates that God has created the Universe, with one Kun Faya-kun, a ayah from Quran that means 'Allay says Be, and it is formed or done'.  It is important concept in Sufism, which reflects at the ultimate will and authority of Allah. Allama says that now God wanted Adam to explore the Universe, hence the order to leave paradise and see the creations that follows Kun. And Adam is given eyes, with thousands of dreams to witness his creation.
The second verse states that do not ask me of the veil of Being. The evening of my separation [or exile for paradise] is the actually the morning of my current being.
Ye Hukm Tha Ke Gulshan-e-'Kun' Ki Bahaar Dekh
Aik Ankh Le Ke, Khawab-e-Pareshan Hazar Dekh
Mujh Se Khabar Na Puch Hijab-e-Wujood Ki
Sham-e-Firaq Subah Thi Meri Namood Ki
شمع
 بزمِ جہاں میں مَیں بھی ہُوں اے شمع! دردمند
فریاد در گرہ صفَتِ دانۂ سپند
دی عشق نے حرارتِ سوزِ درُوں تجھے
اور گُل فروشِ اشکِ شفَق گوں کِیا مجھے
ہو شمعِ بزمِ عیش کہ شمع مزار تُو
ہر حال اشکِ غم سے رہی ہمکنار
تُویک بِیں تری نظر صفتِ عاشقانِ راز
میری نگاہ مایۂ آشوبِ امتیاز
کعبے میں، بُت کدے میں ہے یکساں تری ضیا
مَیں امتیازِ دیر و حرم میں پھنسا ہُوا
ہے شان آہ کی ترے دُودِ سیاہ میں
پوشیدہ کوئی دل ہے تری جلوہ گاہ میں؟
جلتی ہے تُو کہ برقِ تجلّی سے دُور ہے
بے درد تیرے سوز کو سمجھے کہ نُور ہے
تُو جل رہی ہے اور تجھے کچھ خبر نہیں
بِینا ہے اور سوز درُوں پر نظر نہیں
مَیں جوشِ اضطراب سے سیماب وار بھی
آگاہِ اضطرابِ دلِ بے قرار بھی
تھا یہ بھی کوئی ناز کسی بے نیاز کا
احساس دے دیا مجھے اپنے گداز کا
یہ آگہی مری مجھے رکھتی ہے بے قرار
خوابیدہ اس شرر میں ہیں آتش کدے ہزار
یہ امتیازِ رفعت و پستی اسی سے ہے
گُل میں مہک، شراب میں مستی اسی سے ہے
بُستان و بُلبل و گُل و بُو ہے یہ آگہی
اصلِ کشاکشِ من و تُو ہے یہ آگہی
صبحِ ازل جو حُسن ہُوا دِلستانِ عشق
آوازِ 'کُن' ہوئی تپش آموزِ جانِ عشق
یہ حکم تھا کہ گُلشنِ 'کُن' کی بہار دیکھ
ایک آنکھ لے کے خوابِ پریشاں ہزار دیکھ
وہ دن گئے کہ قید سے مَیں آشنا نہ تھا
زیبِ درختِ طُور مرا آشیانہ تھا
قیدی ہوں اور قفَس کو چمن جانتا ہوں میں
غربت کے غم کدے کو وطن جانتا ہوں میں
یادِ وطن فسُردگیِ بے سبب بنی
شوقِ نظر کبھی، کبھی ذوقِ طلب بنی
اے شمع! انتہائے فریبِ خیال دیکھ
مسجودِ ساکنانِ فلک کا مآل دیکھ
مضموں فراق کا ہوں، ثریّا نشاں ہوں میں
آہنگِ طبعِ ناظمِ کون و مکاں ہوں میں
باندھا مجھے جو اُس نے تو چاہی مری نمود
تحریر کر دیا سرِ دیوانِ ہست و بود
گوہر کو مشتِ خاک میں رہنا پسند ہے
بندش اگرچہ سُست ہے، مضموں بلند ہے
چشمِ غلَط نِگر کا یہ سارا قصور ہے
عالم ظہورِ جلوۂ ذوقِ شعور ہے
یہ سلسلہ زمان و مکاں کا، کمند ہے
طوقِ گلُوئے حُسنِ تماشا پسند ہے
منزل کا اشتیاق ہے، گم کردہ راہ ہوں
اے شمع! مَیں اسیرِ فریبِ نگاہ ہوں
صیّاد آپ، حلقۂ دامِ ستم بھی آپ
بامِ حرم بھی، طائرِ بامِ حرم بھی آپ!
مَیں حُسن ہوں کہ عشقِ سراپا گداز ہوں
کھُلتا نہیں کہ ناز ہوں میں یا نیاز ہوں
ہاں، آشنائے لب ہو نہ رازِ کُہن کہیں
پھر چھِڑ نہ جائے قصّۂ دار و رَسن کہیں