3 Rare Live Qawwalis of Sabri Brothers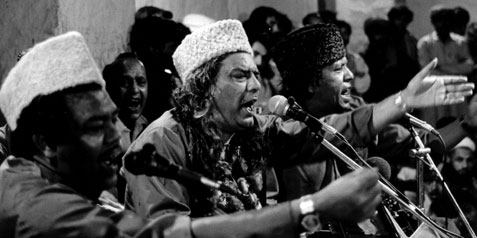 Dear Brother W,
It was my intention to prepare a post for TheSufi.com about the late Indian Qawwal Ustad Jafar Hussain Khan Badauni (1931-1998), who isn't as well-known in the West as he deserves to be. But I don't have the energy for it, and I can only concentrate for a short time. So it will have to wait.
Instead I send you three exquisite qawwalis by the Sabri Brothers, from Nazr-E-Shah Karim. This album was recorded in 1983 for the Silver Jubilee of the Agha Khan IV (Prince Shah Karim Al Husseini (b. 1936), 49th Imam of Nizari Ismailis.
All three Qawwalis are performed in a traditional style and accompanied on traditional instruments, such as the sitar, sarangi (classical bowed instrument) and flute.

 Yeh Jashn Jashn e Ruba Sadi Hai – The Sabri Brothers (22:25)

 Ey Khuda O Nabi Ke Parwane – The Sabri Brothers (20:29)

 Hazrat Amir Khusrau Ka Qaul Aur Tarana – The Sabri Brothers (21:24)
I hope you will enjoy these three qawwalis as much as I do, Dear Brother.
Wishing you all the very best,
Wazir