5 features of Allama Iqbal's Shaheen, the Mascot of Khudi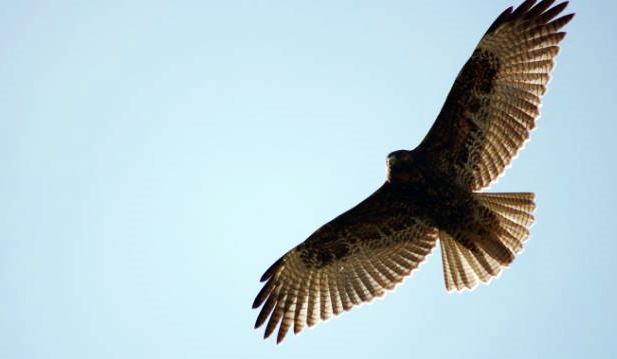 The concept of Khudi or self discovery was never fully novel, but the way Iqbal portrayed it in a simple and elegant vein through his Urdu and Persian verse was unprecedented. South Asian poets rarely went beyond verses of love and deprivation, and Iqbal shattered such barriers.
Iqbal's Khudi takes its ingredients from both Khud Shinaasi (self discovery) but at the same time some from Khudari. If I run a bibliographical analysis, I will say Khudi is 80% Khud Shinaasi [self awareness] and 20% Khudari [self-respect].
Shaheen was the perfect mascot of Khudi and Iqbal chose it an exceptionally elegant way to promulgate his message.
Dr. Javid Iqbal explained the 5 distinct features of Shaheen in one of lectures, which follow:
1. Shaheen is born with far sight, hence the verbatim eagle-eyed is known. He has the vision to see beyond superficial and read between events as they happen. As Iqbal says in Baal-e-Jibreel.
Kho Naa Jaa Iss Seher-o-Sham Main Ae Sahib-e-Hosh
Aik Jahan Aur Bhi Hai, Jis Main Na Farda Hai Naa Dosh
Oh! Self Aware Man! Don't get lost in this series of morning and evening
There is another world, where there is no future, nor past.
2. Shaheen is the most fearless of all bird specifies, who flies at high altitudes. He does not gather Rizq like sparrows and crows, but flies and lives on a different and higher level. As Iqbal's famous verse says:
Tund-e-Baad-e-Mukhalif se na Ghabra ae Uqaab
Yeh to chaltee hai tujhay oonchaa uranay Ke liye!
O' Falcon, dont be scared of the headwinds
They just blow to keep your flying to greater hights.

3. Shaheed eats what it's preys itself. Unlike vultures, which are the largest birds, they don't eat left overs of other animals. It's a symbol of Khudari, the ability to toil hard for your Rizq as well as avoid haraam (corpses of other animal as eaten by vultures).
Jiphatna, Palatna, Palat Kar Jhapatna
Lahoo Garam Rakhney Ka Hai Ik Bahaana
4. Shaheen seeks solitude. It's not a social bird like sparrows and gulls who live in groups. Solitude or khalwat pasandi is a key part of self discovery as explained.
Bayaabann Ki Khalwat Khush Aati Hai Mujhko
Azall Say Hai Fitrat Meri Rahbanaa
Solitude of wilderness goes along with me well
Since from creation, I am hermit by nature.
5. Shaheen does not makes a home or sticks to a station. It lives, eats and breeds in

Nahin tera Nasheman Kasr-e-Saltani ke Gumbad par
Tu Shaheen hai Basera Kar, Paharon ki Chitanon mai
Your abode is not the dome of emperor
For you are Hawk, you live on the rocks of great mountains.
Download Kalam-e-Iqbal by various artists below in MP3 format, including:

Shikwa (Complete) – Nusrat Fateh Ali Khan 29MB

 Jawab-e-Shikwa (complete)  Nusrat Fateh Ali Khan 23 MB

Kalam E Iqbal – By Farida Khanum (4:34)

Fitrat Ne Na – By Trannum Naz [Baal-e-Jibreel] (2:03)

Khirad Ke Pas Khabar Ke Siwa Kuch Aur Nahi – By Suraiyya Khanum (3:46)

La Phir Ik Baar Wohi (7:29)

La Phir Ik Baar Wohi Bada O Jam Aye Saqi – By Shabnam Majeed (3:14)

Masjid E Qurtaba – Recited by By Muhammad Ali ( Actor ) (2:13)

Masjid e Qurtuba Mosque Of Cordoba – By Malika Pukhraj And Tahira Syed (5:35)

Pareshan Ho Ke Meri Khaak Aakhir – By Muhammad Ali Shyhaki (5:20)

Phir Charagh E Lala Se Roshan Hove Koh O Daman (5:21)

Silsila E Roz O Shub (8:18)

Sitaron Say Aage – By Sajjad Ali (5:09)

Saqi Nama (Kalam Allama Iqbal) – Performed by Junoon 4.4MB

Sitaron Se Aage Jahan Aur Bhi Hain – By Rahat Fateh Ali Khan (15:07)

Tere Ishq Ki Inteha Chahta Hoon – By Malka Pukhraj(Kalam E Iqbal) (4:55)

Tu Aye Aseer E Makan – By Ustad Amanat Ali Khan (4:16)

 Yahi Meri Namaz Hai Yahi Mera Wazoo – Recited By Muhammad Ali ( Actor ) (4:07)

Ya Rab Dil E Muslim Ko Woh Zinda Tamanna De – By Shehzad Roy (4:15)

Ya Rab Dil E Muslim Ko Woh Zinda Tamanna De – By Ustad Amanat Ali Khan & Farida Khanum (0:21)

Yeh Gumbad E Minaee ( From Farsi Translation ) – By Farida Khanum (3:29)

Yeh Gumbad E Minayee – By Mehdi Hassan (4:18)

Yoon Hath Nahi Ata Woh Gauhar E Yuk Dana – By Fida Husain (5:47)

Apna Maqam Paida Kar (With Background) – By Rahat Fateh Ali Khan (25:33)

Bala Kashan E Mohabbat Ki Yadgar Hoon Mai – By Shahida Parveen (3:49)

Chamak Teri Ayan Hai Bijli Main Aatish Main (6:05)

Gesu E Tabdaar Ko Aur Bhi Tabdaar Kar – By Fariha Parvez (3:09)

Halqa E Bastand Sar E Turbat – By Muhammad Ali Shyhaki (4:36)

Har Cheez Hai Meh E Khud Numayee – By Iqbal Bano (6:48)

Iqbal Hai Iqbal Humara – By Humaira Channa (3:30)

Ishq Ke Mizraab Se ( Masjid E Qurtaba) – By Ghulam Ali (7:43)

Jab Ishq Sikhata Hai Adab E Khud Aagahi – By Munir Husain (4:31)

Kabhi Aye Haqiqat E Munatazir – By Abrar Ul Haq (5:12)

Har Lehza Hai Momin Ki – By Malika Taranum Noor Jehan 5MB

Shikwah – By Malika Taranum Noor Jehan 9MB

Dua (Poem Recitation from Baal-e-Jibreel) 5.84 (06.22)

Masjid-e-Qartaba (Poem Recitation) 14.8MB (16.10)