Abida Parveen Hit Songs: Listen to 2021 MP3 Playlist
Abida Parveen Hit Songs: Listen to 2021 MP3 Playlist
Abida Parveen is called the Queen of Sufi Music for a reason.
She has been producing one of the finest sufi songs for nearly 4 decades now and still remains as strong as ever
Abida Parveen was a child prodigy born in a Sufi family based in the city of Larkana [Sindh]. Her father Ustad Ghulam Haider was a music teacher and singer himself and Abida learned harmonium and sitar from him. 
Her versatility in music remains legendary as she has performed Sufiana and Arfana Kalam, Qawwali, Khayal, Kafis and Ghazals to name a few. 
She is also fluent in a range of oriental languages including Sindhi, Urdu, Punjabi, Persian and Saraiki. 
In 2021, TheSufi.com compiled a Playlist of Abida Parveen classic Sufi songs, from different eras of her career, different languages and different genres of Music, a true reflection of her versatility.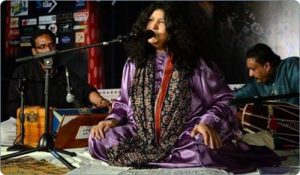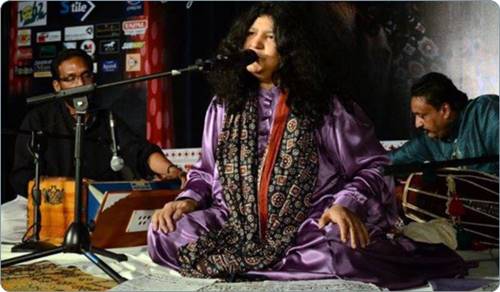 Jab Se Tune Mujhe Deewana 
A Sufiana Ghazal in Urdu by Hakim Nasir. This is probably the best Sufi song by Abida Parveen, sung by many but never as good as Abida Parveen. 
Chhaap Tilak Sab Cheeni is a Sufiana Kalam by Hazrat Amir Khusrow penned in Persian [Farsi] language. This is a firm favorite among all Sufi singers and sung by legends such as Nusrat Fateh Ali Khan and Rahat Fateh Ali. Among female voices, Abida performance remains immaculate.
 
Mann Kunto Mauala [Manqabat Tarana by Hazrat Amir Khusrow]
A Manqabat [praise in glory of Hazrat Ali and his family] again by Amir Khusrow is a amalgamation of different Kalams and Poets that Abida Parveen has merged together, something she has done in many tracks beautifully.
Yaar Ko Humne Ja Baja Dekha 
A ghazal with several Arfana Kalam themes, Yaar Ko Humne Ja Baja Dekha is effectively a Hamd describing the glory of Allah in different sights and forms.
Dama Dam Mast Qalandar is a Qawwali that needs no introduction. It is the most known Sufi Qawwali and even famous among Western audiences for its catchy dhamaal. 
Naad-e-Ali is a Qaseeda in praise of Hazrat Ali. Abida Parveen has performed many Qaseedas but Naad-e-Ali Parh is perhaps the most loved one.
Kal Chaudhavin Ki Raat Thi
Urdu Nazm by Ibn-e-Insha, simple in its verse but heart touching. It is a praise of beauty and qualities of beloved and an exceptional aashiqana poem.
A song of all Pardesi, which is becoming a genre of its own. Many artists have sung poems about the plight of those who left their homelands to new lands. O Des Se Aanay Wale Bata is a question someone who arrives from homeland and poet asks about the places he once knew and loved. 

Aa Wass Mandray Kol [Seraiki Kalam]
Seraiki is a language of poetry, known for its sweetness of tone. Where Pathanay Khan was the King of Seraiki Sufi music, Abida Parveen has so many amazing Seraiki tracks but Khwaja Ghulam Farid's Kalam Aa Wass Mandray Kol remains one of her finest.
Noor-e-Ilahi – Abida Parveen collaboration with Salim Merchant
Abida Parveen was a Judge at a key Indian Music Competition and also collaborated with several Bollywood composers. Noor-e-Ilahi is an amazing result of such collaboration with Salim Merchant, which is a beautiful composition. 
Meda Dil Ranjhan [Kalam Shah Hussain]
Mera Dil Ranjhan Mangay is beautiful Punjabi Sufiana Kalam by Shah Hussain. Abida Parveen has sung numerous amazing Punjabi Arfana Kalam by legends such as Baba Farid, Bulleh Shah and more and this kalam by Shah Hussain to the amazing collection. 
Ik Nukte Wich Gal Mukdi Ae – Kalam Baba Bulleh Shah
Punjabi Kalam by Baba Bulleh Shah is our last Punjabi Kalam, but not the least of course. It is marvelous and creative verse and Abida PArveen's voice and style has just immortalized it.
If you wish to rather Download Abida Parveen Songs in MP3, instead of streaming, just visit the page!