History of the Qawwal Bachchon ka Gharana: Letter by Wazir Dayers
Dear Brother W,
Thanks for your kind reply.
Since you don't know Ustad Bahauddin Khan Qawwal, I hope you won't mind if I write a short text about the history of the Qawwal Bachchon ka Gharana and some of its history in India and Pakistan.
As you know, it all began with Hazrat Amir Khusrau (R.A.). He personally trained twelve disciples in the art of qawwali. His most important disciple was Mian Saamat bin Irahim. He had many descendants. A key disciple was Mian Qutub Bakhsh, better known as Ustad Tanras Khan Sahib (1770-1872). He excelled in both qawwali and Hindustani classical music. He founded the Delhi Gharana of classical music, which still is very much alive today. He also became the chief musician of the court of Bahadur Shah Zafar, the last Mughal emperor (1775-1862). Bahadur Shah Zafar didn't have any real power. The power over the Indian subcontinent was in the hands of the British since the middle of the 18th century. Detail: not many people know this, but Bahadur Shah Zafar was a devout Sufi and a prolific poet.
Ustad Tanras Khan Sahib (the only picture I have of him)
Ustad Tanras Khan Sb. composed many bandishes, which are still sung by Indian and Pakistani classical vocalists. Ustad Tanras Khan Sb. was born in Delhi, but he migrated with his family to Hyderabad in the Deccan in 1857. He has plenty of descendants. Some of them still live in India, e.g. the late qawwal Ustad Meraj Ahmad Nizami, who passed away in October 2015. He spent all his life in Basti Hazrat Nizamuddin in Delhi. Sadly, he rarely got the recognition and respect he deserved. He was the Khalifa of the Qawwal Bachchon ka Gharana and had an ecyclopedic knowledge of qawwali. If you want to read more about him, you can do so here: http://www.thedelhiwalla.com/2012/11/26/the-biographical-dictionary-of-delhi-meraj-ahmed-nizami-b-nizamuddin-basti-1927/ (Ustad Meraj Ahmad Nizami Ji was still alive when this article was written). It's a very good article about a great qawwal and a true Sufi. I send you a qawwali by him, Hazrat Amir Khurau's classic "Chhap Tilak Sab Chhini Re Mose Nainan Milaike".
Ustad Meraj Ahmad Nizami Ji in Basti Hazrat Nizamuddin, Delhi, in 2014. He holds a special place in my heart. I had the good fortune of taking part in a private qawwali mehfil with him in 2008, and this was an experience that I'll treasure in my heart for as long as I live.
In Hyderabad you can still find the Warsi Brothers; they are not descendents of Ustad Tanras Khan, but their family is related to him, and they also sing in the traditional and classical khanqahi and dargahi style of qawwali.
When the princely state of Hyderabad was still ruled by a Nizam, a number of descendants of Ustad Tanras Khan (whose name is also written as "Ustad Tan Ras Khan") were musicians at his court: the cousins Ustad Munshi Raziuddin Ahmad Khan (1912-2003) and Ustad Bahauddin Khan (1934-2006). When the princely state of Hyderabad became a part of the new indepent state of India in 1956, these court musicians decided to migrate to Karachi, Pakistan, together with another cousin of theirs, Ustad Manzoor Ahmad Khan Niazi Qawwal (1922-2013).
All three were equally well at home in qawwali as in Hindustani classical music. Ustad Munshi Raziuddin was the uncle and the teacher of one of my favourite classical singers, Ustad Naseeruddin Saami, who also lives in Karachi and whose sons sing qawwali under the name "Saami Qawwals".
Ustad Munshi Raziuddin was such a humble man that he refused to be called "Ustad". And yet he was a major Ustad. He also was the father of Ustad Farid Ayaz and Ustad Abu Muhammad Qawwal, arguably the greatest living qawwals of our time. Especially Ustad Farid Ayaz is an exceptionally gifted singer. I have quite a few recordings of him and his brother, and if you like, I'll send them to you sometime in the future. But first I send you a video of Ustad Munshi Raziuddin singing "Man Kunto Maula" together with his sons. Ustad Munshi Raziuddin liked to talk about his music; he does so in this video, too.
Ustad Munshi Raziuddin Ahmad Khan performing with his sons, Farid Ayaz and Abu Muhammad.
When Ustad Munshi Raziuddin, Bahauddin Khan and Manzoor Niazi had settled in Karachi, they formed a qawwali ensemble, which was known as "Manzoor Ahmad Khan Niazi Aur Hamnawa". They were very successful in the late 1950s and the 1960s. But in the 1970s, they each went their own way. They remained very close with each other – the split wasn't the result of a disagreement between the members of the group.
Ustad Manzoor Ahmad Khan Niazi created "the Niazi Brothers". I haven't been able to find any proper footage of him, so I'm sending you a qawwali from an LP that was released in 1976 by EMI Pakistan: "Marhaba, Ya Noor-al-Ayni, Marhaba" – it's a na't, in Arabic and Urdu. The title means: "Welcome, O Light of the Eye, welcome!" (which goes on as: "Marhaba, Jadd-al-Hussaini, Marhaba" – "Welcome, Grandfather of al-Hussain, welcome!". I find his voice to be quite similar to that of his cousin, Ustad Munshi Raziuddin.
Ustad Manzoor Ahmad Khan Niazi with his sons, Abdullah Niazi and Makhmoor Niazi. Here's another picture of Ustad Manzoor Ahmad Khan:
Since Ustad Manzoor Ahmad's demise in 2013, Ustad Abdullah Niazi Qawwal has become the leader of the Niazi Brothers.
Ustad Bahauddin Khan started his own group under the name "Bahuddin Qutbuddin Qawwal". Qutbuddin was Ustad Bahauddin's brother. I'm sending you a video of a televised na't, broadcasted in 1982: "Ya Habibi, Ya Muhammad".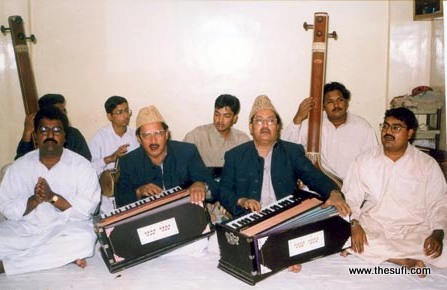 Ustad Bahauddin Qutbuddin Qawwal – in the second picture, Ustad Bahauddin Khan's sons, Saifuddin and Najmuddin, are already visible.
After the passing of Ustads Bahauddin and Qutbuddin, the group has become known as "Saifuddin Najmuddin Qawwal". Together with the other Pakistani descendants of Ustad Tanras Khan and other traditional qawwals, they live in what has become known as "Qawwali Gali" in Karachi. There they try to keep the classical and traditional khanqahi and dargahi qawwali alive. In Delhi, the sons of Ustad Meraj Ahmad Nizami Ji are doing the same.
Dear Brother, if the music and video files are to your liking, then please let me know, then I'll send you more. I noticed that you already have two of recordings by Ustad Farid Ayaz & Abu Muhammad Qawwal. If you want more qawwalis from them, I'll be happy to send them your way.Just let me know when it suits you.
Yours affectionately,
Wazir