Jashn-e-Eid-e-Milad-un-Nabi (S.A.W.S.) Mubarak: Letter from Wazir Dayers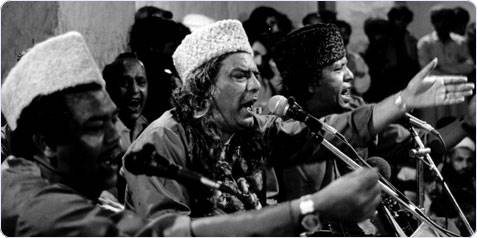 Dear Brother W,
On the occasion of the Birthday of the Prophet (S.A.W.) I'm sending you four Qawwalis by the Sabri Brothers from The Sabri Brothers & Ensemble – Qawwali – Pakistani Sufi Music . It was the first Sabri Brothers album that I bought, in 1988. Later it was re-released on CD.
The first track is an inspired Urdu hamd: "Allah Hoo, Allah Hoo, Allah Hoo". It stresses the unicity of the Divive Being – who really is the Only Being, and the necessity for the traveller on the mystical Path to focus on the Divine being and not on the untrue ego.
Next is "Dama Dam Mast Qalandar". It is unusual in that the tempo is rather slow, compared to other versions. But it's a wonderful rendition all the same.
The third track is a deeply moving qawwali that celebrates the birth of Hazrat Muhammad: "Dai Halima, God Mein Teri Chand Utarne Wala Hai" – I sent you a live version of this song last year. There is a lot of heartfelt tenderness, love and joy in this marvellous song.
The fourth and final piece is the Sabri Brothers' version of Allama Muhammad Iqbal's "Tipu Sultan Ki Wasiyat" – "Tu Rahnaward-e-Shauq Hai, Manzil Na Kar Qabool". It's quite different from Nusrat Sahib's version, but I love it just as much.
The instruments used are traditional: two harmoniums, tabla and dholak. If you listen closely, you can hear the soft buzzing of a tanpura in the background.
I hope you will enjoy these qawwali gems, Dear Brother. A Joyous Eid to you and all at TheSufi.com!
Wazir