Mawhub Art Gallery holds Artoze Art Exhibition – By Aymen Zaheer
Mawhub Art Gallery holds Artoze Art Exhibition – By Aymen Zaheer
The Artoze Art Exhibition was launched on the last Friday of this past month by Mawhub Art Gallery, featuring artists from all over the Kingdom. The two-day art exhibition comprising of a galaxy of artists aged 15 and above were held on March 26th, while on the second day, March 27th, artists aged 14 and below will be the one to endeavor their artworks.
It is the 5th Art Exhibition hosted by the Mawhub Art Gallery that provided a forum for Saudi and Expats artists to present their works. Female artists from Russia, France, UK, Philippines, Spain, India and Pakistan participated in this art exhibition. This exhibition was to motivate and encourage promising artists living in Saudi Arabia.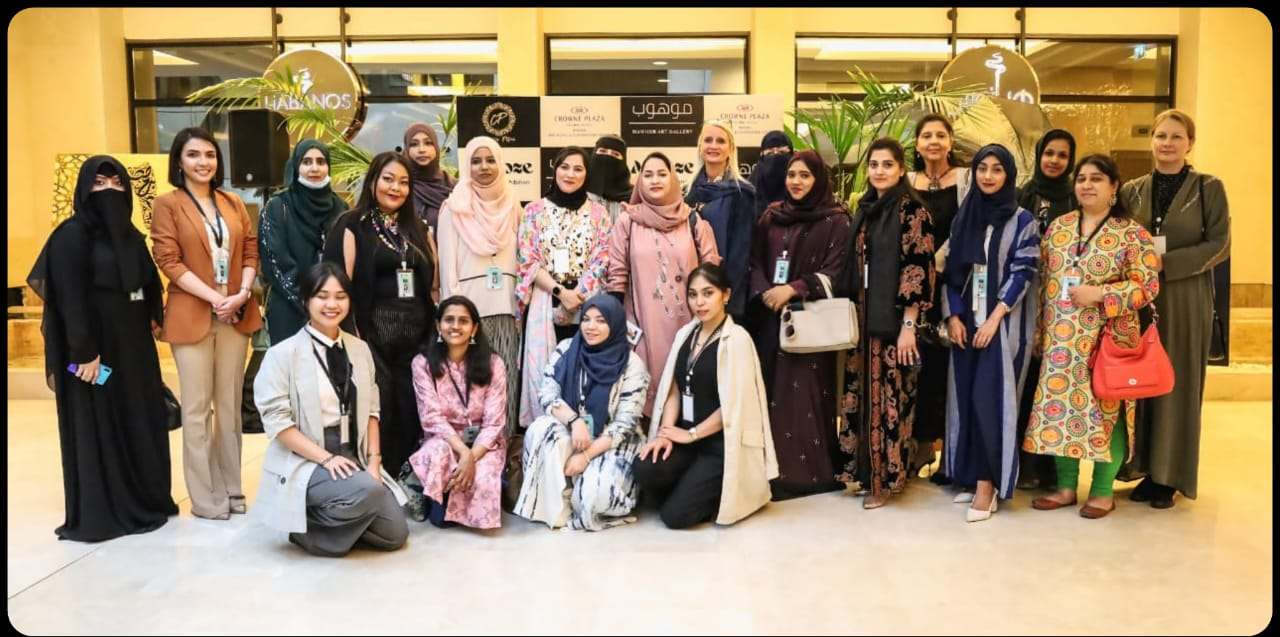 Mawhub Art Gallery is intended to promote all kinds of artists by providing them with the chance to showcase their talents. It provided a platform to local budding artists to showcase their creativity at length. The collection of such pieces depicts that Art gives respect to each nationality for glorifying their culture values.
The launching night of the Artoze Art Exhibition captivated art enthusiasts, journalists and various renowned men and women of the local community. All the artists were well appreciated by the visitors for their prismatic and diverse artwork.
The ingenious galaxy of artists who participated in Artoze included: Amena Mustafa, Anupama Adityan, Christine Dimaculangan, Dr. Sameena Humayun, Erika Cadiz, Fatima Zia, Hessa Ahmed, Khyrullina Marina, Kulsoom Kehkashan, Leslie Ann Fiestan, Madiha Noman, Mahwish Abdulrehman, Maru Prats, Mehreen Ali, Minuja Muhammed, Moona Fatima, Nahid Bashmail, Nazneen Mirza, Rehab Abdul Samad, Roohy Khan, Sara Ahmed, Sharangi Dhurandhar, Smriti Singh, Stefi Laron, Ursala Usmani, Amina Faheem, Anvita Sunil, Asiya Mumtaz Ahmad, Hooriya Raza, Isra Ali, Kadija Baray, Sana Owais, Shivada Rajan, Zara Ziyad, Zeba Salim and Zoha Aftab.
The Chief Guest of the art exhibition was Ahmed Amer Alasmari, Founder of Khatati Al Riyadh, Certified Calligraphy Trainer at KSU and Saudi Arabic Calligrapher & Designer, whereas, the Chief Guest for the 2nd exhibition was Najla Mohammed AlSaleem, a Saudi national artist. She is the daughter of the late artist Mohammad Al-Saleem – one of the pioneers in the country.
Ms. Alia Isaak Aldiqs, a Saudi artist and founder of Synergy Group, attended the exhibition as a Guest-of-Honor, whereas, other Guest-of-Honor was Ms. Cécilia Pitré, French Lady who passed 15 years in hospitality and Luxury Lifestyle Creative Director.
Ahmed Amer – Chief Guest on Mar 26th, expressed as,"Art is an apt source that beads the people of different origin, class, color or nation. It is based on different cultures but emits message of unification". He also extended words of appreciation for the participants as well as for the audience and the event organizers.
Ms. Najla Mohammed – Chief Guest on Mar 27th – congratulated all the artists who presented their innovative and descriptive art pieces. In her address, she displayed her expression of appreciations for the art pieces and mentioned that she was simply bewitched by the concepts behind every artwork.
Ms. Alia Isaak – Guest-of-Honor on Mar 26th – admired young participants and applauded everyone who participated whole heartedly. Any piece of art is manifesto of inspiration and motivation. It gives strength to achieve our goals. Art, no doubt, belongs to different origins but it addresses the common issues for the sole purpose of betterment of mankind. She also thanked to Mawhub Art Gallery for their supporting role towards emerging artists and provoked the Saudi artists and appreciated their interest in this art field.
Ms. Cécilia Pitré – Guest-of-Honor on Mar 27th – mentioned that Art is the only entity that can preserve the cultures. It is the mirror of any society and global norms as well. Art has universal language to convey any message in a positive way. She also assured Mawhub Art Gallery of her full support and cooperation for future exhibits.
Founder of Mawhub Art Gallery, Roohy Khan, disclosed her gratitude towards Ahmed Amer and Najla Mohammed for gracing the occasion as chief guest. She delivered the note of thanks especially for the two Guests-of-Honor and paid rich tributes to all the artists for their time and participation in the Artoze Art Exhibition with their august presence and enthralling the audience with their masterpieces.
"The fundamental aim to hold this exhibition was to glorify, inspire and find out the talent in young children," she added.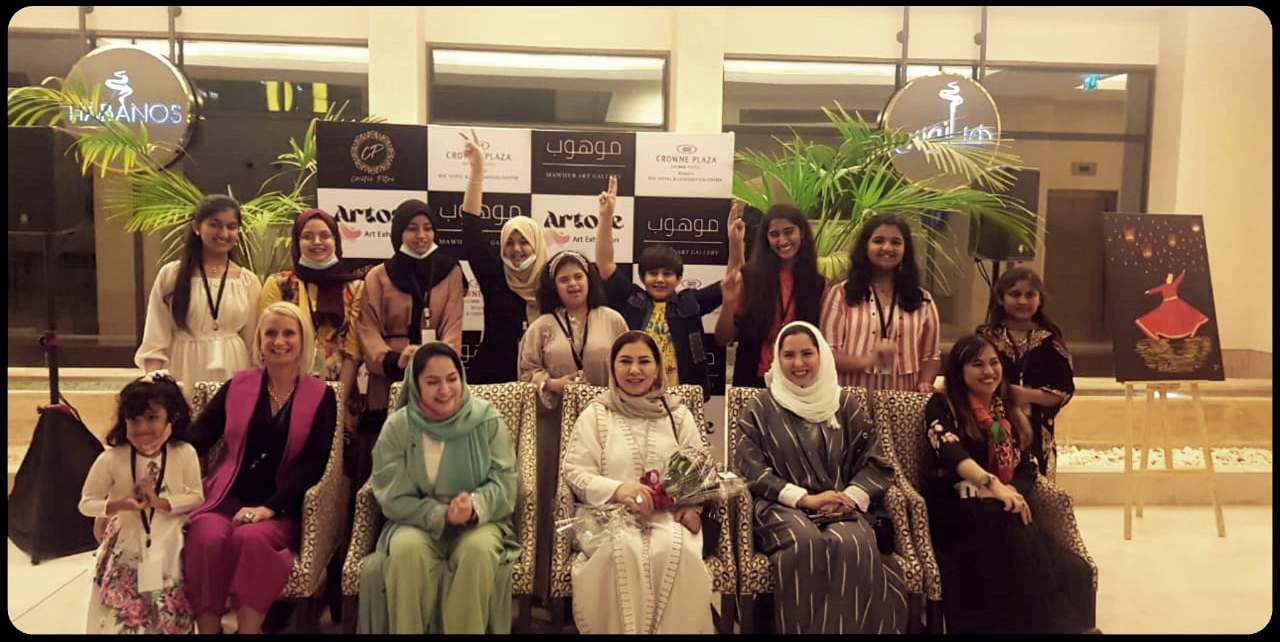 Creative Head / Organizer, Naziya Mudassir said that Mawhub Art Gallery is the sole concept of Roohy Khan. She is born with artistic taste buds. She briefly introduced background of Roohy Khan, an Artist/Arabic Calligrapher and a Curator based in Saudi Arabia and a Member of Saudi Arabian Society for Culture and Arts (SASCA). She has participated in 37 Art exhibitions till date, including both Solo and Group in various countries including India, UAE, Saudi Arabia, Pakistan, Qatar, Jordan, Greece. She has curated 6 International Art Exhibition in the Kingdom of Saudi Arabia. She got National Award in All India Calligraphy Competition and Exhibition (in 2014) held at M.F.Hussain Art Gallery in New Delhi, India
The parents were overjoyed by their children's efforts and getting massive support by the Mawhub Art Gallery.
The Artoze Art Exhibition received a tremendous public response and was visited by large number of art lovers throughout the Kingdom.
In the end, all the artists were presented with certificate of appreciation. The exhibition concluded on a happy note.