Sabri Brothers: A letter by Wazir Dayers
Sabri Brothers: Another beautiful letter by Wazir Dayers, World's leading expert on Sufism
Dear Brother W,
It probably won't come as a surprise if I tell you that I have more qawwalis by the Sabri Brothers than I have sent you already. It truly is a joy to be able to share them with people who appreciate them.
Tonight I'm sending you three Sabri Brothers qawwalis. They come from a tape released by EMI Pakistan in 1990. I bought it after a Sabri Brothers concert in Belgium in 1991. On the front (see attachment) their name is written as "Saabri Braadarz", and even though the front of the inlay says "New Qawwalis", this only partly true, since one of the items on the tape is Hazrat Amir Khusrau's (R.A.) "Chhap Tilak Sab Chhini Re Mose Naina Milaike", which was released well before 1990. But I'll send it anyway, together with the other pieces.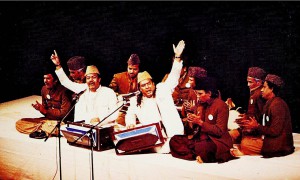 The other items on this tape are a kalam by Bhagat Kabir: "Man Kahe Ko Ban Ban Jaye Re". I don't understand very much of Kabir's medieval Hindi, but I do believe that the message of this poem is that you must search the Divine in your own heart or innermost being ("man"), and not in a mosque or temple.
The last item, which last for almost 30 minutes (it's on the B-side of the tape), is in praise of the greatest Sufi Saint of the Indian Subcontinent, Hazrat Khwaja Moinuddin Chishti of Ajmer (R.A.). It's in a variety of Hindi that I believe to be Poorbi. It's entitled "Khwaja Piya", and that pretty much says it all. The lyrics are by Fana Buland Shehri, whose poetry has been sung by many qawwals. If I understand it correctly, "Khwaja Piya" is written from the perspective of a young maiden (symbol of female and spiritual receptiveness, a receptive devotee), who talks to her friend ("sakhi"), but also addresses the great Saint himself: the exclamation "Jogan hoon tori, rakh laaj mori!" is not hard understand, even for me!
What I love about "Khwaja Piya" is that the Sabri Brothers build it up so slowly and gently, in a subdued way almost. It's definitely one of my Sabri Brothers' favourites.
I hope you'll enjoy these qawwalis too, Dear Brother.
Yours affectionately,
Wazir
Download Qawwalis by Sabri Brothers below. Also Visit Sabri Brothers MP3 Page to download the largest collection.