The story of Bilal al-Habashl, who embraced death with joy
The story of Bilal al-Habashi, who embraced death with joy: Sufi story from Masnavi by Maulana Rumi
When weakness made Bilal grow as thin like the new moon, the colour of death fell on his face.
His wife saw him in this state and cried, "O' Sorrow!" Then Bilal said to her, "No, no! Say, 'O joy!'
Until now living has caused me pain and suffering: how should you know how delightful the death is, and what it is in reality?"
Bilal's wife said to him, "This is the separation, o' man of fine qualities." "No, no," he said, "It is the union, the union with God."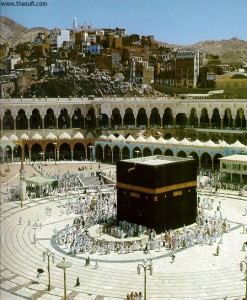 The wife said, "Tonight you will go to a strange country, you will become absent from your family and relatives."
"No, no," he replied; "on the contrary, tonight in reality my spirit is coming home from a strange country."
She said, "Where shall we see your face?" He answered, "In God's chosen circle."
His chosen circle is close to you, if you look upward, not downward.
"Grief!," she said, "this house has been ruined now." "Look at the moon," Bilal said. "do not look at the cloud.
He [Allah] has ruined it in order that He may make it more nourishing: my relatives were many and the house was too small.
I was a beggar in this dungeon-like house; now I have become a emperor: a palace is needed for a king."
Truly, palaces are the place for spiritual kings to reside in; for him who is spiritually dead a grave is a sufficient house and dwelling.
To the Prophets this world seemed small: like kings, they went into the world of spacelessness.
Masnavi Volume 3, Verses 3517 – 3538 
Transliteration based on English translation by our dear brother Wazir Dayers, with permission and compliments.