What's the Link between Islam and Sufism? By Shehryar Arshad
What's the Link between Islam and Sufism? By Shehryar Arshad
Link between Islam and Sufism: Sufism is a branch of Islam. A Sufi is known as the supporter/member as the inner dimension of Islam. It is an existence of Islam via Muslim Scholars, therefore a practitioner and preacher of Islam thoroughly is known as a Sufi.
To understand the link between Islam and Sufism we have to understand what happens in sufi's innerself. The objective of a Sufi is to purify the heart and body and beautify it with true Islamic virtues and traits while turning it away from all evil, and filth. Even non-Muslims respect and follow the path of Sufi Mysticism to find eternal peace.
Sufism is characterized as a process of cleansing and purifying of the heart which may be rewarded by knowledge of God. It is concerned with law pertaining to actions of human heart and consists of rules relating to worship, transactions, marriage, judicial rulings, criminal law, repentance from sin, contemptible qualities and evil traits.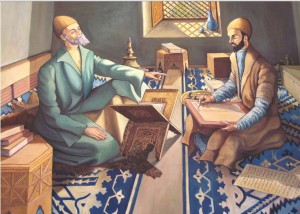 The term Sufi is derived from " ahl as-Suffah" i.e the people of the Islamic group. These People were companions of Prophet Muhammad SAW, who held the gatherings of Zikr and Islamic Beliefs.
Sufi is an effective physician of the heart who has the knowledge and pure intention to serve Allah. He prescribes a course of treatment appropriate to the seeker via spiritual guidance. The seeker therefore can't self-diagnose or undertake any of the said practices alone and without formal authorization. The Seeker/follower must practice Five Salaah , fast in the holy month of Ramadan, and follow life of the Supererogatory Muhammad P.B.U.H and His Sunnah.
Saying of Quran " My servant draws near to Me through nothing I love more than that which I have made obligatory for him. My servant never ceases drawing near to Me through supererogatory works until I love him. Then, when I love him, I am his hearing through which he hears, his sight through which he sees, his hand through which he grasps, and his foot through which he walks".
It is necessary for him to have a correct creed (aqidah) and he must turn away from sins, love of this world, the love of company and renown, obedience to Satan, pride, arrogance, envy.
The Naqshbandi order of Sufis follow spiritual link through Muhammad's grandsons and its teachings originate from first Islamic Caliph, Hazrat Abu Bakr. The spread of Sufism is a definitive factor in the spread of Islam and Islamic cultures, especially in Africa and Asia. It flourished during 13th-16th century throughout the Islamic world known ad "The Golden Age".
Turkey and Persia together have been a centre for many Sufi lineages and orders. It spread towards Cyprus, Greece, Albania, Bulgaria, Macedonia, Bosnia, Kosovo and to the USA. A representative of Sufi order in Europe, was a Swedish born Sufi Adbul Hadi Aghili also known as Ivan Agueli. Rene Guenon a French scholar, became a Sufi in twentieth century and was known as Sheikh Abdul Wahid Yahya.
Early Sufis lived in a room of a mosque and taught religion to small group of people from different classes. While loving Allah it was impossible to maintain a union with the divine world. A Sufi began by finding a teacher who must be genuine and have received the authorization to teach from another Master in the way of Islam, in an unbroken succession leading back to Muhammad P.B.U.H.
Sufism is based on the concept of a "Perfect Man" [Insaan-e-Kaamil] derived from spiritual guidance by Allah's grace to mankind. It is concerned with direct personal experience. It requires that the sufi lives with and serves his teacher for many years. For eg. Baha-ud-Din Naqashband Bukhari served his teacher, Sayyid Muhammad Baba As-Samasi, for about 20 years until the death of As-Samasi. He served the weak and needy members of his community with himself being very tolerant and humble. He was taught to care for animals, cure them during their sickness, cleaning their wounds, and assisted them.
Imam Al Ghazali taught that Sufism originated from the Quran and did not contradict Islamic Law. Even today Muslim Scholars and Western academics are making Imam Al-Ghazali's works available in English translation, allowing English-speaking readers to judge for themselves the compatibility of Islamic Law and Sufism. They practice Zikr which is also called Zikr-e-Qalb i.e remembrance of Allah by heartbeat. The idea in this practice is to visualize the Arabic names of Allah, as if they are written on the disciples of heart. During a "Muraqaba" a sufi is to collect all of his body senses in concentration, and to cut himself off from the worldly notions that inflict upon the heart. He turns his full consciousness towards Allah.
Fiqh Academy of Jeddah, in July 2006, specifically recognized the validity of Sufism as a part of Islam. The Shariah (traditional Islamic law) and the Sunnah are seen as crucial for any Sufi aspirant. Almost all the famous Sufi masters of the past Caliphates were experts in Shariah. They were renowned as people with great faith and excellent practice.
In the world of today many films have been made with concept of Sufism via story, dance or music.
The Jewel of the Nile (1985) in which The "Jewel" is actually a Sufi holy man.
In Hideous Kinky (1998), "Julia" Kate Winslet travels to Morocco to explore Sufism and a journey to self-discovery.
In Monsieur Ibrahim (2003), "Omar Sharif's" plays a Muslim in the Sufi tradition.
Bab Aziz (2005), a film by Tunisian director Nacer Khemir, draws heavily on the Sufi tradition, containing quotes from Sufi poets such as Rumi and depicting an ecstatic Sufi dance.
Famous music these days is also derived from Sufism.
An evening ceremony on Fridays is observed at at Dargah Salim Chisti, India.
Abida Parveen, a Pakistani Sufi singer is one of the foremost exponents of Sufi music.
Nusrat Fateh Ali Khan is also considered the finest Sufi vocalists of the modern era.
Sanam Marvi another Pakistani singer has recently gained recognition for her Sufi vocal performances.
A. R. Rahman, the Oscar-winning Indian musician, has several compositions which draw inspiration from the Sufi genre; examples are the filmi qawwalis "Khwaja Mere Khwaja" in the film Jodhaa Akbar, "Arziyan" in the film Delhi 6 and "Kun Faya Kun" in the film Rockstar.
Bengali singer Lalan Fakir and Bangladesh's national poet Kazi Nazrul Islam scored several Sufi songs.
Junoon, a band from Pakistan, created the genre of Sufi rock by combining elements of modern hard rock and traditional folk music with Sufi poetry.
In 2005, Rabbi Shergill released a Sufi rock song called "Bulla Ki Jaana", which became a chart-topper in India and Pakistan.
Madonna, on her 1994 record Bedtime Stories, sings a song called "Bedtime Story" that discusses achieving a high unconsciousness level. The video for the song shows an ecstatic Sufi ritual with many dervishes dancing, Arabic calligraphy and some other Sufi elements. In her 1998 song "Bittersweet", she recites Rumi's poem by the same name. In her 2001 Drowned World Tour, Madonna sang the song "Secret" showing rituals from many religions, including a Sufi dance.
Singer/songwriter Loreena McKennitt's record The Mask and Mirror (1994) has a song called "The Mystic's Dream" that is influenced by Sufi music and poetry.
The band mewithoutYou has made references to Sufi parables, including the name of their album It's All Crazy! It's All False! It's All a Dream! It's Alright (2009).
Tori Amos makes a reference to Sufis in her song "Cruel".
Mercan Dede is a Turkish composer who incorporates Sufism into his music and performances.
The names of prominent Sufis in the Subcontinent are :
Abdullah Ansari
Abu Said Abul Khayr
Abdul Qadir Jelani
Abdullah Faizi ad-Daghestani
Afaq Khoja
Ahmed Ghazali
Ahmed Yesevi
Ahmed Al-badawi
Al-Ghazali
Al Hallaj
Amir Kulal
Ali Shair Navai
Al Fozail bin Ilyaz
Abdul Khaliq Ghujqawani
Abdullah Ansari
Abdul Qadir Jelani
Abu Said Abul Khair
Abdullah Faizi ad Daghestani
Afaq Khoja
Ahmed Ghazali
Ahmed Yesevi
Ahmad Al Badawi
Abu Al Hassan Al Kharaqani
Al Qasim Ibn e Abi Bakr
Dawad Al Qaysari
Sadr Al Din Al Qunawi
Safi Ad Din Ardabili
Ibn Ata Allah
Farid Al Din Attar
Balim Sultan
Baba Fakruddin
Baha Ud Din Naqshband Bukhari
Bande Nawaz
Khawaja Baqi Billah
Bayazid Bastami
Shah Abdul Latif Bhitai
Bulleh Shah
Shah Ghulam Ali Dehlvi
Ibrahim Al Desouki
Esad Arbili
Ibrahim Hakki Erzurumi
Farid Ud din Ganjshakar
Fuzuli
Husn u ask
Mohi-ud-Din Chishti
Khwaja Ghulam Farid
Gul Baba
Haji Bayram
Haji Bektash
Hafez
Maulana Halid e Baghdadi
Imam Al Haddad
Yusuf Hamdani
Jamal Ud Din Hansavi
Arabati baba Teke
Usman Harooni
Ali Hujwiri
Ibrahim Ibn Adham
Ibn Arabi
Fakhar Al din Iraqi
Jabir Ibn Hayyan
Jafar Al Sadiq
Jahaniyat Jahangasht
Jami
Mirza Mazhar Jan-e-Jaan
Mir Sayyid Ali Hamdani
Mir Sham ud Din Iraqi
Maruf Karkhi
Magtymguly Pyragy
Mohammad El Jazouli
Abdul Karim Jili
Junaid Al Baghdad
Qutbuddin Bakhtiar kaki
Alaudin Sabir Kilyari
Omar Khayyam
Amir Khusrou
Najmuddin Kubra
Aziz Mahmud Hudayi
Fazl Allah Astarabidi
Abu Ul Najib Al Shuarwardi
Nasir Khusrou
Imadaddin Nasimi
Nasiriddin Hoca
Nathar Vali
Shah Naimatullah Wali
Nizam Ud Din Auliya
Shah Syed Muhammad Nur Baksh Qahistani
Saint Noori
Otman Baba
Pir Sultan
Qutb Ud Din Haider
Qutb Ud Din Shirazi
Ahmed Sirindhi
Rabia Basri
Najm Al Din Razi
Ahmed Al Rifa
Shah rukn-e-Alam
Salman Al Farsi
Sanai
Sari Saltik
Sheikh E Debali
Ashraf Jehangir Samnani
Suleman Hilmi Tunahan
Abu Ul Hassan Shadhili
Shah Wali Ullah Shahab Al Din Suharwardi
Shams-e-Tabrizi
Abu Bukr Shibli
Sultan Walad
Jalal Ud Din Surkh Posh Bukhari
Zahed Gilani
Abu Hafs Umar al Suharwardi
Sahl Al Tusari
Yunus Umre
Baha Ud Din Zikria
Ahmad Zurruq
Zu Al Nun Al Misri