5 Naat Sharif you must listen this Ramzan
Naat Sharif is an important part of our Ramzan TV transmission. Like recitation of Quran and Zikr performed during the holiest of all months, Naat are performed in praise and glory of Rehmatallil Alameen, Sayyidina  Muhammad SAW.
This Ramadan of 2020, we rewind back to the nostalgia of 1980-90s to bring out the best Naats Sharif that you must listen to in Ramzan 2020.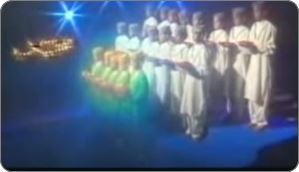 Qasida Burda Shareef [Ode of the Blanket] is a Naat that remains a fresh as ever and performed all over the world for Barkah. What makes it so special is context behind it as Sufi mystic Imam al-Busiri of Egypt wrote it in his extreme illness, and Prophet SAW arrive to him and wrapped in his blanket, which cured him the next morning. This is considered a Kalam that brings cure from illness, both physical and spiritual. This version on PTV was an instant loved version because of its simplicity with diyas [candles] glowing in the background forming the name 'Muhammad' SAW مُحَمَّد صلى الله عليه وآله وصحبه وسلم .
Mustafa Jaaney Rehmet Pe Lakhan Salam is a Naat Sharif that is recited and loved at every Milad Sharif in Pakistan and beyond. It has a simple tune to it and with beautiful poetry in praise and glory of Sarkar e Do Jahan Muhammad SAW. It is especially popular for group recital during Milad and other events that has Naat Sharif recited in them.
Umme Habiba's voice was extremely pure and soothing and with her simple appearance and presentation, her Naats were admired by millions in Pakistan. This is Naat at its simple best, a Kalam by renowned Sufi poet and saint from Afghanistan, Hakim Jami who is known amazing lyrical ability in Farsi, backed by a tune of an unknown composer.

Muhammad Rafi needs no introduction to anyone who has listen to old Indian cinema songs. Considered the greatest male vocalists ever of Bollywood, he hailed from Lahore before trying is luck in India as a singer and rest in history. Not many know that Rafi Sahib was a devout muslim and performed Naat sharif especially during his last days. His personality was as gentle as his voice and his love for Prophet SAW manifests in this beautiful Naat.

Faslon Ko Takaluf is a classic Urdu Naat Sharif which tells of heart touching sentiment of a Zair [pilgrim] that is on his way to Medina Sharif. It is a tale of love and respect to Prophet as one takes journey of a lifetimes with tired body yet with a high spirit that cannot to see the beloved city of Median Sharif. This is Naat Goee [Naat Recital] at its finest with amazing high notes and a poetry that brings tears to eyes immediately.