Abida Parveen Concert at Eventim Apollo London on 26 October 2018 7pm
In 2017, Abida Parveen, the undisputed queen of Sufi Music, left audiences mesmerised with an extraordinary and memorable performance at London South Bank.
With her most loved tracks such as Mahi Yaar Di Gharoli, Jab Se Tune Mujhe Deewana, Aray Logo Tuhmara Kaya, Naad-e-Ali, and Chaap Tilak Sab Cheeni , Abida Parveen voice quality only seemed to have gone better and better as she is now in her 4th decade of performances.
Abida had a small supporting band comprising a Tabla Player, Dholak Player and Harmonium Player, but it was one unbelievable huge sound. Abida Parveen voice was like an instrument itself, precise, strong with a natural echo to move audiences effortlessly into a state of trance.
Like all Abida Parveen concerts, audiences were left craving for more and good news is that she will be returning to London to perform at Eventim Apollo London on 26 October 2018 7pm.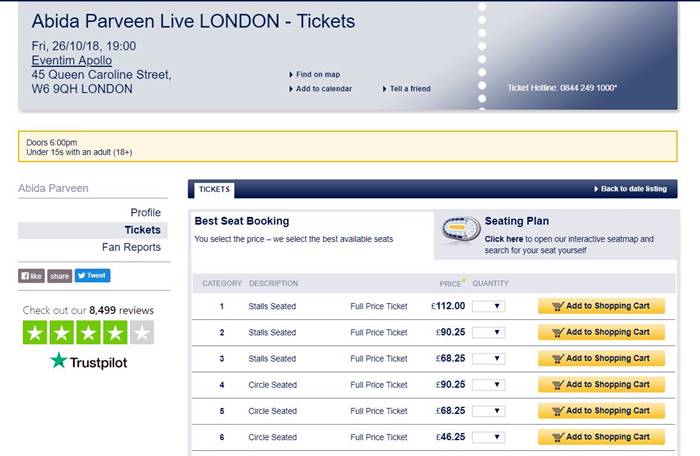 Purchase Abida Parveen Concert Tickets here.