Yeh Jo Halka Halka Saroor Hai – Nusrat Fateh Ali Khan finest performance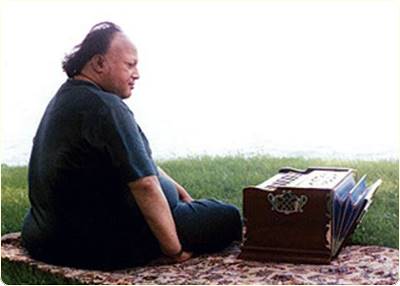 Tera Pyaar Hai Meri Zindagi
Teri Yaad Hai Meri Bandagi
Jahaan Apne Sarr Ko Jhukaa Diya
Wahan Mein Ne Kaaba Bana Diya

Mein Azal Se Banda E Ishq Hoon
Mujhe Zuhd O Kufr Ka Gham Nahin
Mere Sarr Ko Dar Tera Mila Gaya
Mujhe Talash-e-Haram Nahin
Yeh Jo Halka Halka Saroor Hai…
Yeh Jo Halka Halka Saroor Hai is one of the greatest love songs ever penned. With its beautiful verses like above, it is an expression of utmost and devotional love for beloved.
Nusrat Fateh Ali Khan was a clever musician who always looked for at the demands of his audience. He did not confine singing to Qawwali and Sufiana but also sang love songs, ghazals and even Pakistani cinema industry playback.
In 1980s, many Indian musicians begin experimenting with Western instruments such as Guitars and Drums. Many Sufi artists stick to harmonium and tabla, but Nusrat Fateh Ali Khan did not shy from use of Western Instruments. His album Mast Mast was the first album by any Qawwal that used remixing as well as bass guitars and drums, and the rest as the say is history as Dam Mast Qalandar by Nusrat FAteh Ali Khan became the highest selling cassette in Pakistan of its time.
Download the  original and uncut 18-minute Qawwali in voice of King of Sufi Music, Nusrat Fateh Ali Khan sings Yeh Jo Halka Halka Saroor Hai.