Andar Aaina-e-Jaan Aks-e-Jamal-e Deedam: Kalam by Moeenuddin Chishti
Andar Aaina-e-Jaan Aks-e-Jamal-e Deedam: Kalam by Hazrat Moeenuddin Chishti of Ajmer Sharif
Andar aaina-e jaan aks-e jamal-e deedam
Hamcho khursheed ke dar ab zalaal deedam
Ta Moin zarra sifat raft pi-e nor azal
Na tulu-o na ghuroob-o na zawal-e deedam
اندر آئینہ جان عکس جمال دیدم
ہمچو خورشید کے در اب زلال دیدم
تا معین ذرّہ صفت رفت پئے نور ازل
نہ طلو ع نہ غروب نہ زوال دیدم
English Translation
In the mirror of life, I saw reflection of the beautiful one [God]
Like the Sun, I saw it reflected in water
When Moeen was on his path to the Eternal Light,
There was neither a rising nor a setting or a decline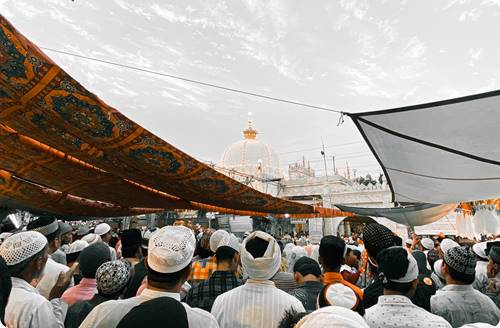 Also download Khwaja ki Deewani: An evergreen tribute to Khwaja Moinudin by Sabri Brothers. Sabri Brother's respect for Khwaja Moeenudin was legendary. They migrated to Pakistan from India following 1947-partition, but as evident in their Qawwalis, their heart remains which is truly reflected in verse below:
Khuda Gawah Hai Ajmer Khud Nahin Choraa
Bichar Ke Kabhi Sakoon Mill Naa Saka
خدا گواہ ہے اجمیر خود نہیں چھوڑا
بچھڑ کے کبھی سکون مل نہ سکا
God is witnesses, we didn't leave Ajmer on purpose
Once we left Ajmer, we never found contentment of heart anywhere else.