Announcing the Zain Zohaib Qawwali UK Tour – November 2023 🎶
Announcing the Zain Zohaib Qawwali UK Tour – November 2023 🎶
Get ready to experience the magic of Qawwali like never before as Zain Zohaib, the maestros of this enchanting musical genre, embark on their much-anticipated UK Tour this November! 🇬🇧
Presented by the esteemed @strings_entertainment, this tour promises to be a musical odyssey that transcends boundaries, taking you on a soul-stirring journey through the enchanting world of Qawwali.
🌟 Event Details:
🗓️ Date: Various in November 2023
📍 Location: Slough [10 Nov], Bradford [11 Nov], Birmingham [12 Nov] and Romford, London [17 Nov]
Prepare to be captivated by the timeless melodies and devotional fervor that define Qawwali. Zain Zohaib, with their powerful and emotive voices, will transport you to a realm where music becomes a spiritual experience, where hearts connect, and souls are uplifted.
This tour is not just a musical event; it's an opportunity to immerse yourself in the rich cultural heritage of Qawwali, a genre that has been enchanting audiences for generations. Whether you are a seasoned Qawwali enthusiast or someone new to this mesmerizing form of music, the Zain Zohaib Qawwali UK Tour promises an unforgettable experience for all.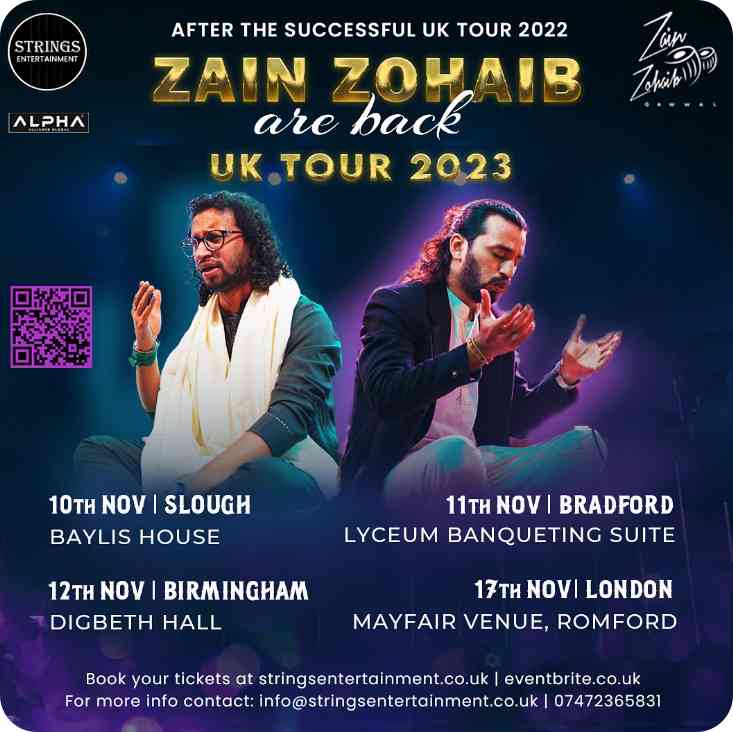 Stay tuned for more updates on ticket sales, tour dates, and venues. Mark your calendars and get ready to embark on a musical journey that will leave an indelible mark on your heart and soul.
Don't miss out on this chance to witness the magic of Zain Zohaib live in concert. Get ready to be swept away by the harmonious melodies, powerful vocals, and the spiritual essence of Qawwali. Stay connected for more exciting updates, and we look forward to sharing this musical adventure with you in November 2023!