Ranjha Ranjha Kar Di Ni Main Aape Ranjha Hoyi  – Punjabi Kalam by Bulleh Shah
Ranjha Ranjha Kar Di Ni Main Aape Ranjha Hoyi –  I have become Ranjha myself, calling Ranjha Ranjha – Punjabi Kalam by Bulleh Shah
Repeating my beloved Ranjha, Ranjha.
I have become mysell Ranjha;
Call me now as 'Dhido Ranjha ,
Not by the name of Heer but Ranjha.
Ranjha in me, I in his heart,
None else is there on lines! chart;
I am not T, he all in all,
And he himself would come, console.
Whatsoever is seen in me,
My caste and creed is not of me,
For I, with whom, knitted in love,
Transmuted me into his Love.
Now put aside the sheet in white.
Put on the beggar's gown ablight;
Whitish garments would be stained,
No stain can stick to gown restrained.
Sado ni menoon dhedo ranjha, heer na aakho koii
Ranjha main wich, main ranjhe wich, hor khial na koii
Main nahin oh aap he, apni aap kare diljoii
Jo koii sade ander wasse, zaat asadi so ee
Hath khondi mere agge mango, modhe bhora loii
Bullah heer slati wekho, kitte ja khaloi
Jis de naal main nionh lagaya, oho jehi hoyi
Takhat hazare le chal bullah, sialin mile na dhoii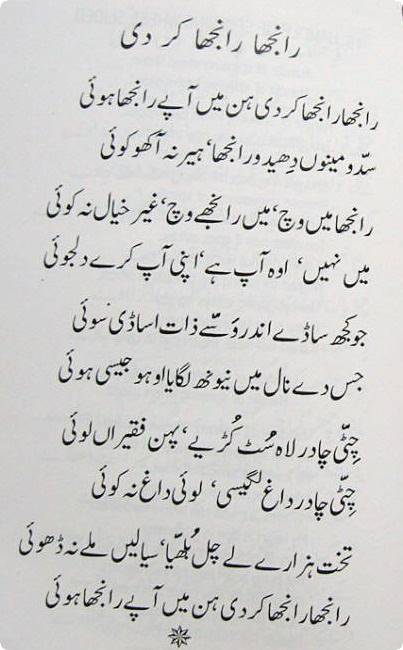 Also download Ranjha Ranjha Kardi in voice of Abida Parveen.