The Power of Nusrat Fateh Ali Khan's Music
The Power of Nusrat Fateh Ali Khan's Music
Pakistani singer and music composer, Nusrat Fateh Ali Khan, is an icon of Sufi music. His impact on the world of music transcends all boundaries. His songs are often powerful and emotionally moving; his lyrics speak to the soul and his voice is captivating. Let's take a look at how Nusrat Fateh Ali Khan's music has become beloved around the world.
The Album That Changed It All!
In 1990, Mustt Mustt, Nusrat Fateh Ali first fusion album was released and it was the first Qawwali album to shake up MTV India and as well as Pakistani TV. It was, and remains an iconic album, with tracks such as Dam Mast Qalandar Mast Mast, Kise Da Yaar Na Vichre, Tery Bina Nahin Lagda.
These songs were widely praised in both Pakistan and India and they helped establish him as one of the most influential singers in both countries. He followed this up with two more collaboration albums released by Western Music labels that solidified his status as a superstar: "Mystery of Love" (1991) and "The Day, The Night, The Dawn, The Dusk" (1995).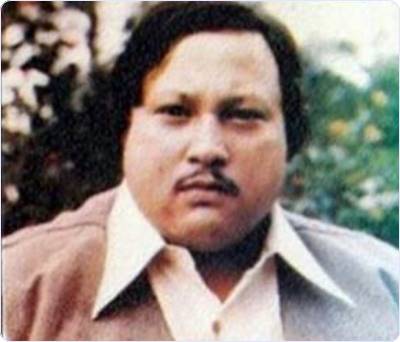 Xenophobia-Defying Collaborations
In addition to creating phenomenal solo projects, Nusrat also collaborated with other artists from different parts of the world including Japan, Canada, United Kingdom and India. He was able to connect with people from all walks of life through his music despite cultural barriers or political differences—something that was incredibly rare at the time.
Nusrat Fateh Ali Khan wrote music in era when India and Pakistan had political issues. He was the hailed as the messenger of peace, as he broke the mould and collaborated with Javed Akhtar renowned poet and Bollywood lyricist.
He initiative led to many collaboration between artists and made it easier for later artist's like Javaid Shaikh, Atif Aslam, Ali Zafar and Maira Khan to work in Bollywood.
His Legacy Lives On
After passing away in 1997 due to cardiac arrest, Nusrat's legacy has continued to live on through his music which still resonates deeply with people all over the world today. His nephew and protégé, Ustad Rahet Ali Khan took his throne and led the Qawwal troupe onwards.
With timeless classics like 'Mustt Mustt' and collaborations that defied xenophobia at a time when it was rampant worldwide—Nusrat Fateh Ali Khan left an indelible mark on the international music scene that will never be forgotten. His powerful voice conveyed emotion like no other artist before him or since then—making him a true icon who will continue to inspire generations to come!