Ustad Zakir Hussain and Adnan Sami Khan: Collaboration of two maestros
The world of music has always been a place where artists from different backgrounds, genres, and cultures come together to create something magical. And when two master musicians collaborate, the result is nothing short of breathtaking. Ustad Zakir Hussain and Adnan Sami Khan are two such musicians who have collaborated to create some of the most mesmerizing music that the world has ever heard.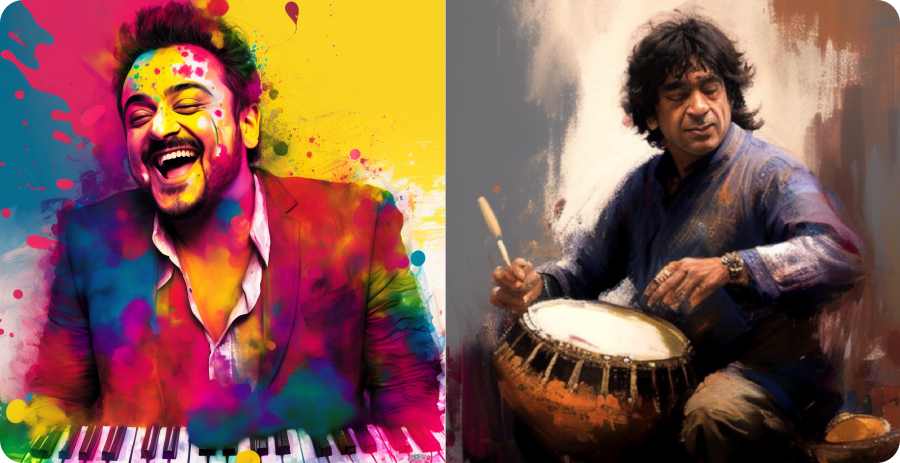 Ustad Zakir Hussain is a legendary Indian tabla player and composer, known for his virtuosity and versatility. He is considered one of the finest tabla players in the world and has collaborated with several musicians from around the world, including Ravi Shankar, John McLaughlin, and Mickey Hart. He has won several awards for his contribution to music, including the Padma Bhushan and the Grammy Award.
Adnan Sami Khan is a Pakistani-born Indian musician, singer, and composer. He is a trained classical musician and has worked in several genres, including pop, classical, and fusion. He is known for his exceptional piano skills and has won several awards for his music, including the Nigar Award and the Screen Award.
The collaboration between Ustad Zakir Hussain and Adnan Sami Khan is a unique fusion of Indian classical and western music. The two musicians first came together in 2000 when they recorded a live album called "Live at the Royal Festival Hall". The album was a huge success and showcased the incredible talent of both musicians.
Since then, Ustad Zakir Hussain and Adnan Sami Khan have collaborated on several projects, including the soundtrack of the Bollywood movie "Bajrangi Bhaijaan" and the album "RaagTime". Their music is a perfect blend of classical Indian ragas and western harmonies, creating a sound that is both familiar and exotic.
What makes this collaboration so special is the mutual respect and admiration that the two musicians have for each other. Ustad Zakir Hussain has called Adnan Sami Khan a "genius musician" and praised his ability to fuse different genres of music seamlessly. Adnan Sami Khan, on the other hand, has credited Ustad Zakir Hussain for introducing him to Indian classical music and teaching him the intricacies of the tabla.
The collaboration between Ustad Zakir Hussain and Adnan Sami Khan is a testament to the power of music to bridge cultural and geographical boundaries. It is a celebration of two master musicians coming together to create something that is greater than the sum of its parts. Their music is a gift to the world and a reminder that true art knows no borders.