Download best Islamic software and mobile Apps for your PC, iPhone, iPad, Android based phones, including prayer times qibla direction and Quran and Hadith research and recitations.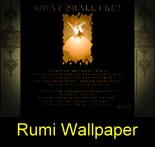 ● "What Shall I be?". Chose between the resolutions below to download Rumi's wallpaper for your desktop. (1024 x 786 pixel)
THESUFI.COM®. A special thanks to Aamir Sarfaraz, Abbas Alvi, Agha Ali Reza and Basheer for their valuable contribution and support.

Wish to request a song or ebook, provide suggestions & feedback;
send it via our CONTACT US form here (opens in a new window)

2002-2015© Site best viewed in 1024*768 resolution in IE 6.0+, Firefox 3+ and Google chrome.

sufi poetry sufism love poetry sufi stories jelaluddin rumi maulana maulana room mevlana rumi mowlana mevlevi sama sema khayyam omar khayam hafiz hafez shiraz saadi sa'adi rabia basri walled garden persia persian poetry quran koran tasawuf islam mathnawi masnavi divan-e-shams. konya konia anatolia turkey qum sufi music sufi whirling whirling dervish dervesh dervaish revolving sufis dervish sufi art gallery islamic art miniature