● Sufi eBooks (beta)
TheSufi.com presents extensive collection of Sufi Literature in PDF format. Download and read on your PC, iPad, Kindle and other Tablets. Authors include Mevlana Rumi, Shaykh Saadi, Hafiz Shirazi, Faridudin Attar, Omar Khayyam, Allama Iqbal and more.
● Sufi Biographies and Stories

TheSufi.com presents biographies and teaching stories from 40 Muslim Sufis and Saints, including Imam Ghazali (with ebooks), Rabia Basri, Faridudin Attar, Mansoor al Hallaj, Bayazid Bestami and many more.

● TheSufi.com Facebook Official Page
Please 'Like' us to keep up-to-date with new Sufi Music, Literature, Art, Quotes, Discussions and more.
Our facebook group is one of the best resources on Sufi quotes, biographies, Islamic art and much more...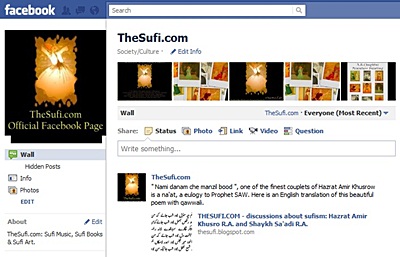 ● Sufi Quotes and Poetry: A Selection of excerpts, poetry and short teaching stories from famous Sufis including:
● Mevlana Jelaludin Rumi ● Saadi Of Shiraz ● Hakim Sanai ● Attar Of Nishapur ● Hakim Jami ● Omar Khayyam ● Imam Ghazali ● Ibn El Arabi.
Sufi Music: TheSufi.com presents one of the largest and best collection of free
sufi music from across the world. Download MP3 and WMA tracks of artists from Pakistan, Turkey, Iran, Egypt and Senegal. Includes some of best music from Abida Parveen, Turkish Sema Assemble, Nusrat Fateh Ali Khan and Sabri Brothers. Please click here to go to www.thesufi.com/sufimusic. All songs are hosted at TheSufi website to ensure single click & no-nonsense downloads.